A simple pan seared halibut recipe with a lemon caper cream sauce. Create an elegant and delicious main dish in under 30-minutes.
Over the years, I've spent a lot of time in the kitchen. I wanted to learn as much about cooking as I could.
While I'm not a classically trained chef, I've been fortunate enough to pick up a few skills along the way.
Take for example, this pan seared halibut recipe. It uses simple techniques to create a dish that pleases both the eyes and the tummy.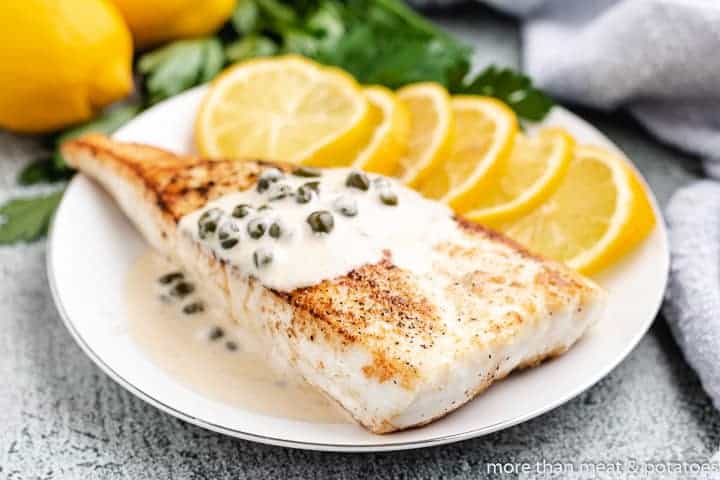 All you need to know is how to sear fish in a pan and how to create a simple pan sauce.
Today, we're going to teach you both of those things. As always, check out the tips section of the post for more helpful information.
It's a little different technique and style than our baked cod with panko which is had a crunchy top and cooked in the oven, or baked flounder with lemon garlic and butter that's baked in a light butter sauce.
How to make pan seared halibut:
Use a fork or whisk to combine garlic powder, sea salt, and black pepper.
Pat the halibut fillets dry with a paper towel.
Sprinkle the seasonings on both sides of the fish.
Heat a skillet over medium heat, and add the oil, butter, and fish.
Cook for 3 to 4 minutes on each side until the fish reaches an internal temperature of 145°F and flakes easily. Remove to a waiting plate.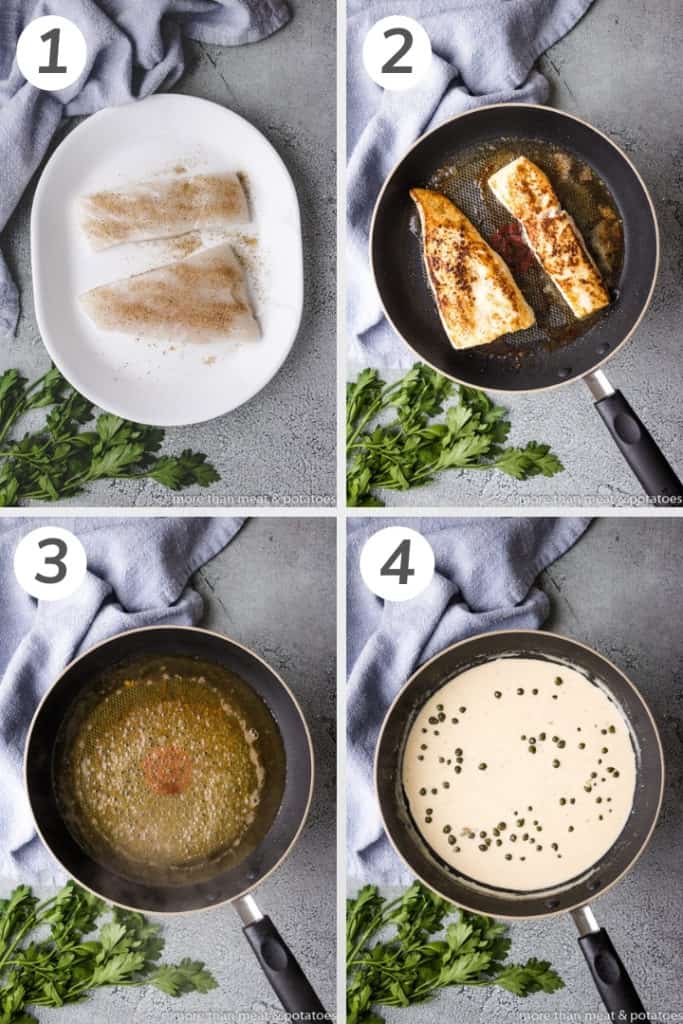 Deglaze the pan with white wine, then add the lemon juice and bring to a simmer long enough to evaporate the alcohol.
Reduce the heat to low and pour in the heavy cream. Continuously stir the sauce while it cooks down for 3-5 minutes (depending on how thick you like your sauce).
Add the capers and stir them into the cream sauce.
Drizzle the lemon caper sauce over the pan seared halibut.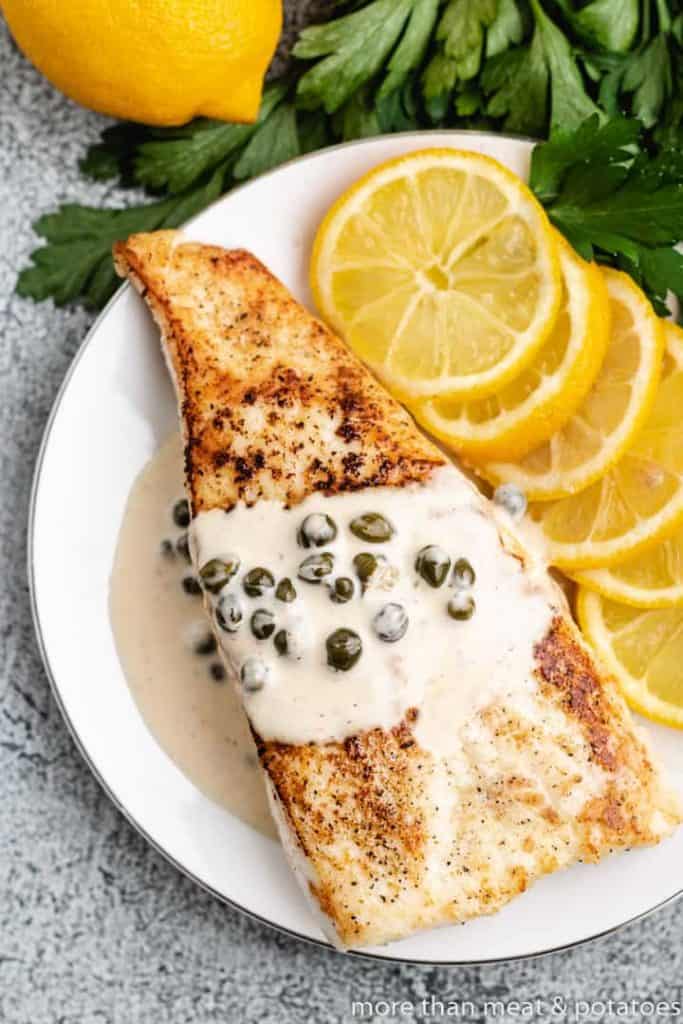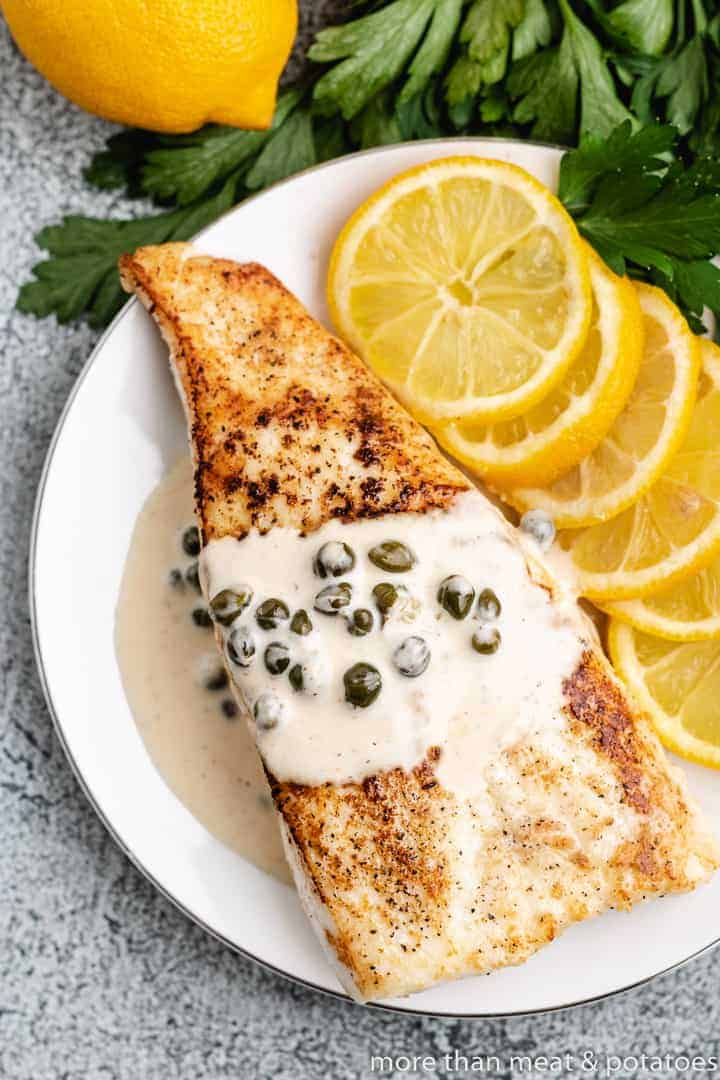 Recipe Tips:
Meat doesn't sear in a cold pan or grill. Always preheat your pans and grills in order to sear any type of meat.
Notice how there are only 3 spices in the recipe. One of the most important lessons I learned in the kitchen is that the simplest recipes are usually the best. Buy quality meats and you don't have to mask the flavor with a long list of spices. Why bother buying a nice filet or loin only to over power the natural flavor with bunch of unnecessary seasonings?
If you don't want to use wine, I understand. There are numerous reasons why someone would not want to use alcohol and none of them are any of my business. So, if you're not using wine, then use a nice chicken broth instead. Don't use beef or vegetable broth, the flavors may clash the halibut. Oh, and please don't use cooking wine, just use broth instead.
Here's another piece of advice to cooking with wine. If it's not good enough to drink, then it's not good enough to cook with.
One last thing, while this recipe might seem complicated, keep in mind we prepared it on an electric hot plate… That's right, a cheap electric hot plate created this dish. Why a hot plate, you ask? Because, our kitchen doesn't have the best lighting for photos and videos. So, we have to do some recipes in a different room, far away from our gas stove.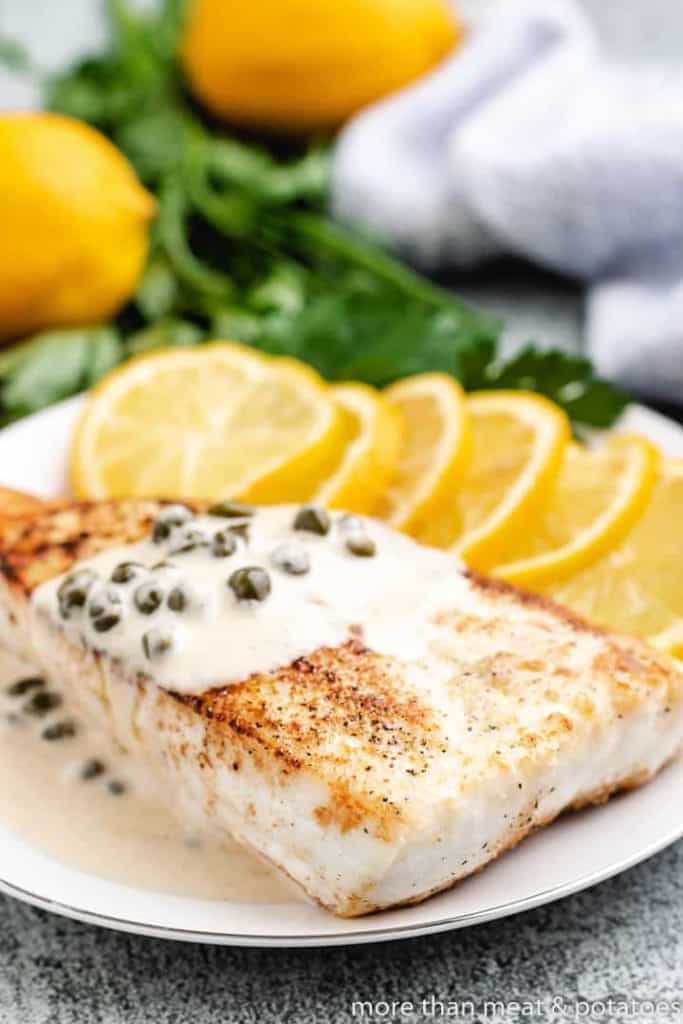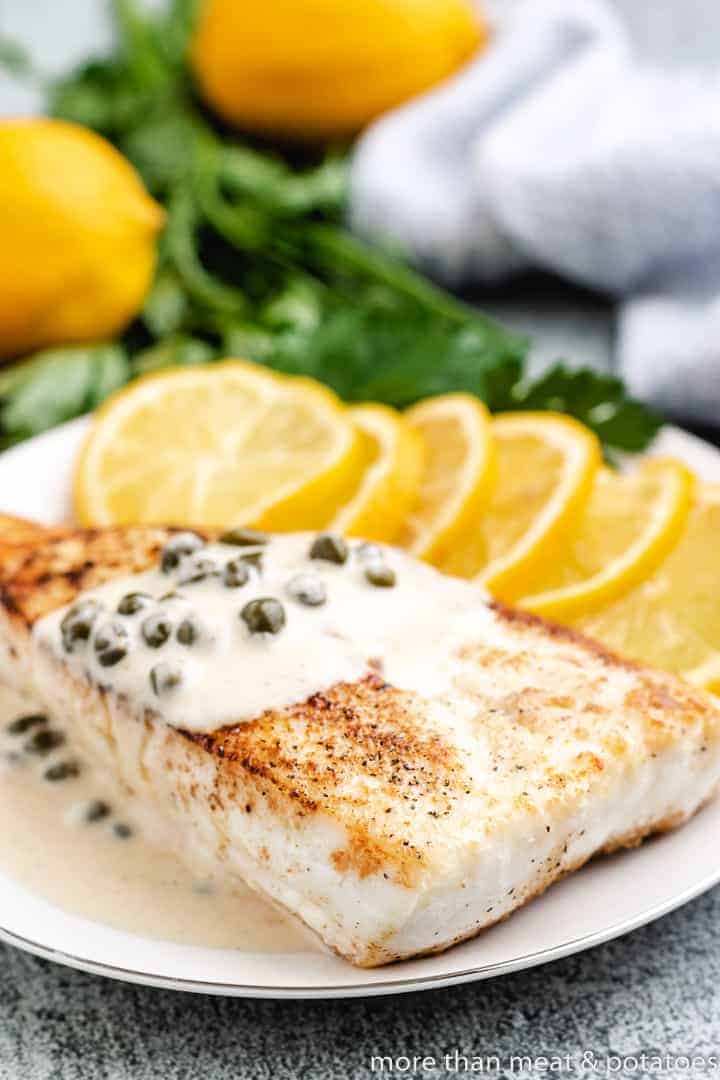 How do you sear fish in a pan?
The same way you sear any other meat. Preheat the pan over medium heat. Once it's hot, carefully, add the fish. Let it cook on both sides long enough to sear the outside of the meat and create a, "crust." Then, reduce the heat and finish cooking the fish until it's done.
Should you remove skin from halibut before cooking?
That depends on the recipe and/or your personal preference. When I pan sear halibut, I remove the skin. However, when baking halibut, I leave the skin on.
How do you cook halibut without drying it out?
That will take practice. With that being said, when pan searing fish, make sure the pan is hot when you add the fish. Sear the outside to lock-in the natural juices. After that, reduce the heat (if needed) and finish cooking the halibut. When baking halibut in the oven, leave the skin on the halibut and cover the baking dish with aluminum foil. Those two methods have helped me avoid drying out fish.
Don't forget to check out our Pan Seared Halibut web story!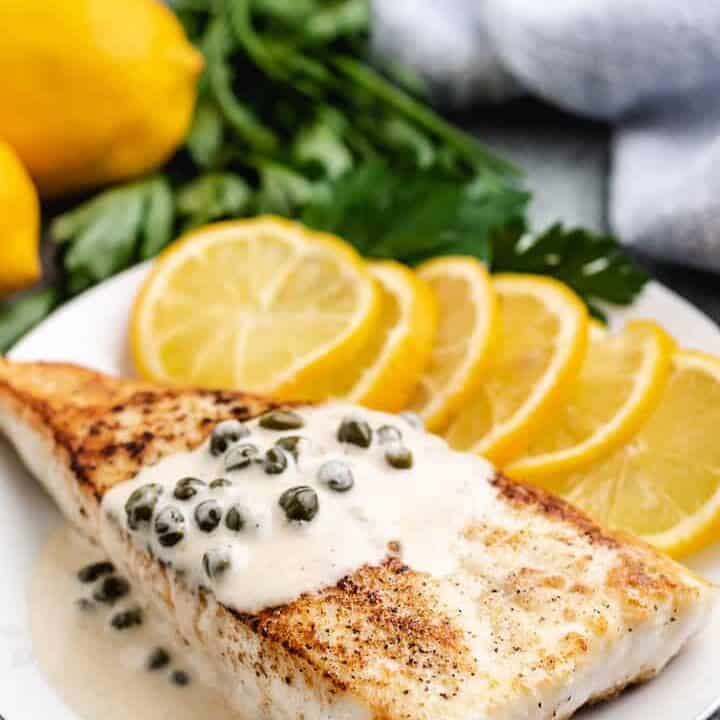 Pan Seared Halibut Recipe
A simple pan seared halibut recipe with a lemon caper cream sauce. Create an elegant and delicious main dish in under 30-minutes.
Ingredients
Fish:
1 Pound Halibut, skin removed
½ Teaspoon Garlic Powder
½ Teaspoon Salt
¼ Teaspoon Pepper
1 Tablespoon Unsalted Butter
1 Tablespoon Olive or Avocado Oil
Lemon Caper Cream Sauce:
½ Cup White Wine
2 Tablespoons Lemon Juice
½ Cup Heavy Cream
1 Tablespoon Capers
Instructions
In a small bowl, combine the garlic powder, salt, and pepper. Set aside. Pat the halibut filets dry with a paper towel, then season both sides with the seasonings.
Heat a medium skillet over medium heat. Add the butter, oil, and fish. Cook the fish for 3 to 4 minutes on each side or until the center is opaque. Remove from the pan to a waiting plate.
Carefully pour the wine into the hot pan, and use a wooden spoon to scrape the browned bits from the pan. Add the lemon juice and stir to combine. The liquid should be bubbling at a simmer but not boiling.
Adjust the heat to low, and add the heavy cream. Continue stirring, and cook for an additional 3 to 5 minutes until the liquid has reduced and thickened. Add the capers, stir to combine, and remove from heat.
Drizzle the sauce over the fish and serve immediately.
Notes
The calories listed are an approximation based on the ingredients in the recipe card and a serving size of 4-ounces of pan seared halibut. Actual calories will vary. Leftovers can be stored in a sealed container, in your fridge, for up to 3-days. For more information and tips, please refer to the post.
Recommended Products
As an Amazon Associate and member of other affiliate programs, we may earn a commission from qualifying purchases.
Nutrition Information:
Yield:

4
Serving Size:

1
Amount Per Serving:
Calories:

313
Total Fat:

19g
Saturated Fat:

9g
Trans Fat:

0g
Unsaturated Fat:

8g
Cholesterol:

109mg
Sodium:

435mg
Carbohydrates:

3g
Fiber:

0g
Sugar:

1g
Protein:

27g
*The calories are an estimate and are based on the ingredients and serving size listed. The calories can vary depending on the brand of product purchased.