*This post may contain affiliate links. As Amazon Associates we earn from qualifying purchases.
Our palacsintas or Hungarian pancakes are paper thin crepes served with a sweet plum filling and topped with a sour cream sauce.
To begin, let me say that we make no claims of authenticity. Meaning, we're not saying these are authentic Hungarian palacsintas.
Because, we don't have access to authentic Hungarian ingredients. This recipe is a modified version of my Grandmother's palacsintas.
So, if you're looking for a recipe that's Hungarian-inspired, then you've come to the right place.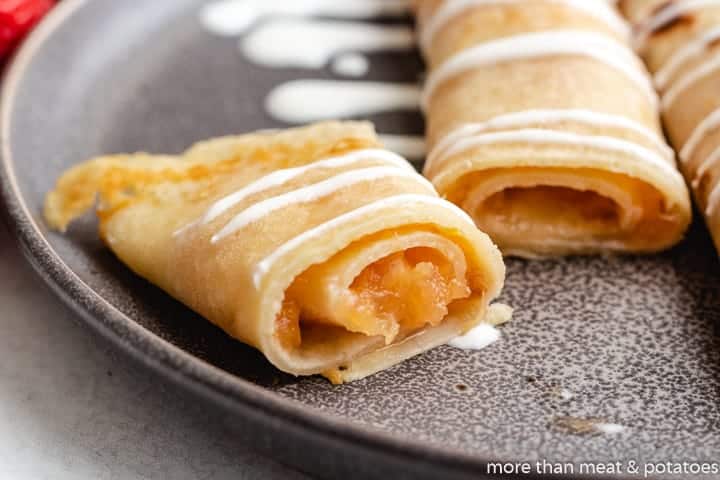 If you're looking for an authentic recipe, then I'd advise you to look elsewhere. Moving on.
How about we make some tasty cakes?
How to make Hungarian pancakes or palacsintas?
First things first, you need to make the thin palacsinta batter. Grab a large mixing bowl and a whisk.
Using the whisk, combine the flour, milk, sugar, vanilla, cracked egg, salt, and club soda.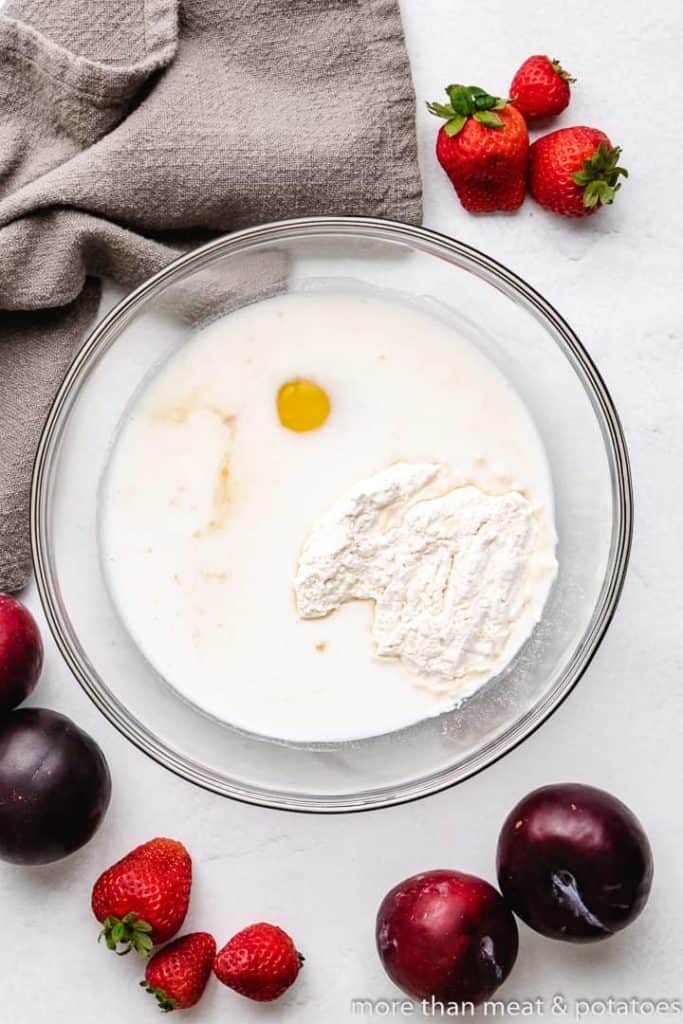 Next, place a large skillet over low-medium heat and add a dab of unsalted butter.
Spread the butter around the pan as it melts. Once the pan is hot, pour in 1/4-cup of the pancake batter.
Now, tilt the pan around to spread the batter out into a large cake. Let it cook for about 1-2 minutes.
Flip the cake and let it cook for another minute or so. Remove it from the pan and set it aside.
Continue cooking the palacsintas until all the batter is gone. You should have around 8 pancakes depending on the size.
It's time to make the plum filling! Start by rinsing and peeling the plums.
Afterward, place the diced fruit into a small saucepan along with the sugar, water, lemon juice, and lemon zest.
Then, place the pan over medium heat. While stirring occasionally, allow the filling to cook for 7-10 minutes.
After that, when the fruit has softened, use a potato masher to crush the plums.
You don't have to mash the fruit, but we prefer a smoother filling. All that's left to do is mix the sour cream sauce and assemble.
Okay, grab another small mixing bowl and whisk. Whisk together the sour cream, milk, and powdered sugar.
After that, place a warm palacsinta on a serving plate, spread the plum filling evenly over the cake.
Starting on one side, roll the pancake up and repeat the process until all the palacsintas are filled.
Last, drizzle the sour cream sauce over the dessert and serve while warm.
That's it, your Hungarian pancakes recipe is done! Kim and I hope you enjoy them and wish you all the best 🙂
Recipe Tips:
If you'd prefer a strawberry filling, then check out our strawberry jam recipe on our sister site Berly's Kitchen.
The palacsinta batter should be thin enough to gently coat the wires of your whisk. If it's too thick, add a tablespoon or two of milk and stir. On the other hand, if it's too thin, add a tablespoon or two of flour and stir.
Jarred fruit fillings will save a ton of time in the kitchen. Don't be afraid to use one instead.
Another variation of this recipe is to fill the crepes with a mixture made of farmer's cheese, egg yolk, and sugar. Typically, we do a cheesecake filling consisting of cream cheese, egg, sugar, and vanilla. However, you have to bake the palacsintas once they're filled with cream cheese mixture.
Don't forget to check out our Palacsintas Recipe web story!
If you like our recipe, please leave us a comment and rate the recipe card. You can also find us on Facebook, Pinterest, Twitter and Instagram searching for More Than Meat and Potatoes!
Join our Facebook group for more recipes from Meat and Potatoes and our sister site, Berly's Kitchen.