Shrimp Diablo is made with tender shrimp that are tossed in a homemade spicy chili pepper sauce. Serve these Mexican spicy shrimp over rice, pasta, or alongside your favorite side dishes!
Do you like spicy food? Do you like seafood? Then you're going to love this recipe for Shrimp Diablo! This dish is packed with flavor, and it's sure to spice up your next dinner.
Making Mexican dishes at home is one way to get a seriously delicious meal. Mexican food has many layers of flavor including savory herbs and lots of spices that make them truly satisfying.
Shrimp Diablo is a spicy Mexican dish made with tender shrimp and a homemade chili pepper sauce that includes three different types of chili peppers. Blend them into a sauce along with tomatoes and cooked shrimp for a high-protein dish that's packed with a punch.
Serve shrimp diablo over a bed of cooked rice or your favorite pasta to make it a complete meal. You can also serve this shrimp as a party appetizer or throw them into a quesadilla, burrito, or tacos for a spicy twist.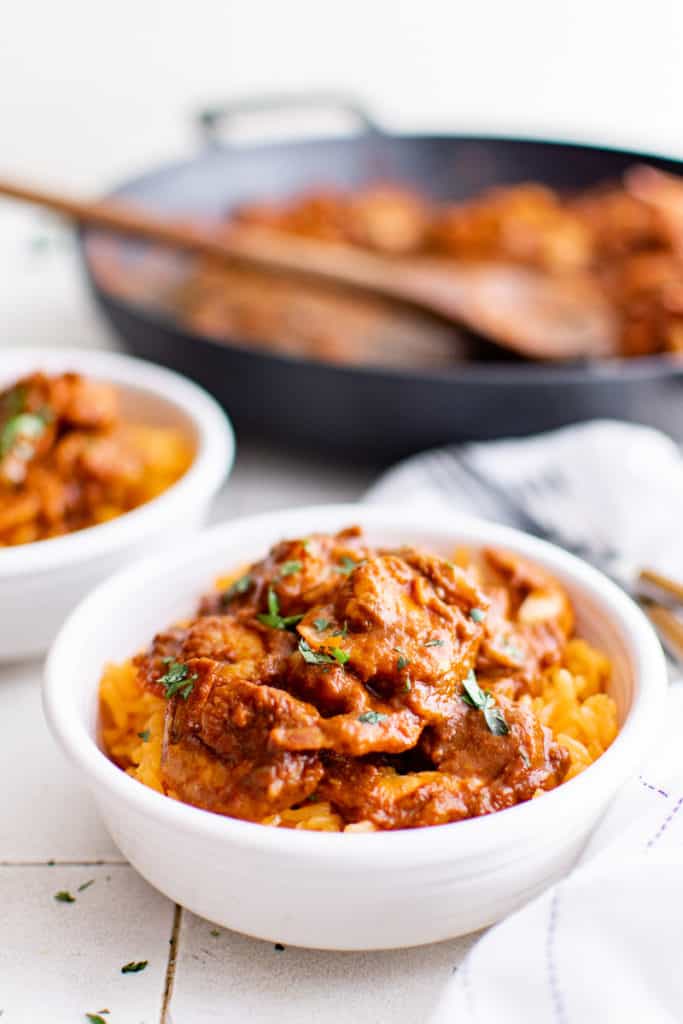 Ingredients You'll Need
Canola Oil – This vegetable oil is used to saute the shrimp in the pan along with garlic and onion.
Onion & Garlic – Gets cooked with the shrimp and canola oil to infuse the shrimp with a fresh garlic and onion flavor.
Peeled Shrimp (Tail On) – These shrimp are peeled and deveined, but left with the tail on for added flavor and presentation.
Chili Peppers – You'll need 3 types of chili peppers to create the classic spicy flavor in the dish including pasilla peppers, chile de Arbol, and guajillo peppers.
Roma Tomatoes – These tomatoes are used to create the sauce for the shrimp which helps add acidity, texture, and flavor.
Apple Cider Vinegar – Apple cider vinegar has a sweet and slightly acidic flavor which gives this spicy shrimp dish its unique tangy taste.
Ground Cumin – This earthy, spicy spice is used to add depth of flavor to the shrimp diablo sauce.
Dried Coriander – This is a fragrant spice with lemony undertones which give it an added brightness to the spicy shrimp diablo sauce.
Dried Oregano – This herb has a slightly bitter, pungent flavor that pairs well with the other spices in this dish.
Salt – Salt is essential to bring out the flavors of all the ingredients in shrimp diablo and should be added to taste.
How To Make Homemade Shrimp Diablo
Cook the garlic and onion: Add canola oil to a skillet over medium heat. Once the oil becomes shiny, add the onion and saute for 5-7 minutes or until it becomes translucent. Then, add the garlic and cook for an additional 60 seconds or until fragrant.
Cook the shrimp: To the garlic and onion mixture, add the peeled shrimp. Saute until they are no longer opaque and have a pink color. Remove from the pan and set aside.
Boil the peppers: While the shrimp is cooking, bring a large pot of water to a boil. Add the 3 chili peppers and boil for 10 minutes. Drain the peppers in a colander.
Blend the sauce: To a high-speed blender, add the boiled peppers, tomatoes, apple cider vinegar, and dried spices. Blend until creamy and smooth. Pour the sauce through a fine-mesh strainer and pour into the pan that was used to cook the shrimp.
Assemble the shrimp diablo: Heat the sauce over low heat and bring to a low simmer for 5 minutes. Add the cooked shrimp and saute for another 3-4 minutes or until the sauce thickens.
Garnish and serve: Serve over pasta or rice while hot and garnish with fresh cilantro, lime juice, and sour cream if desired.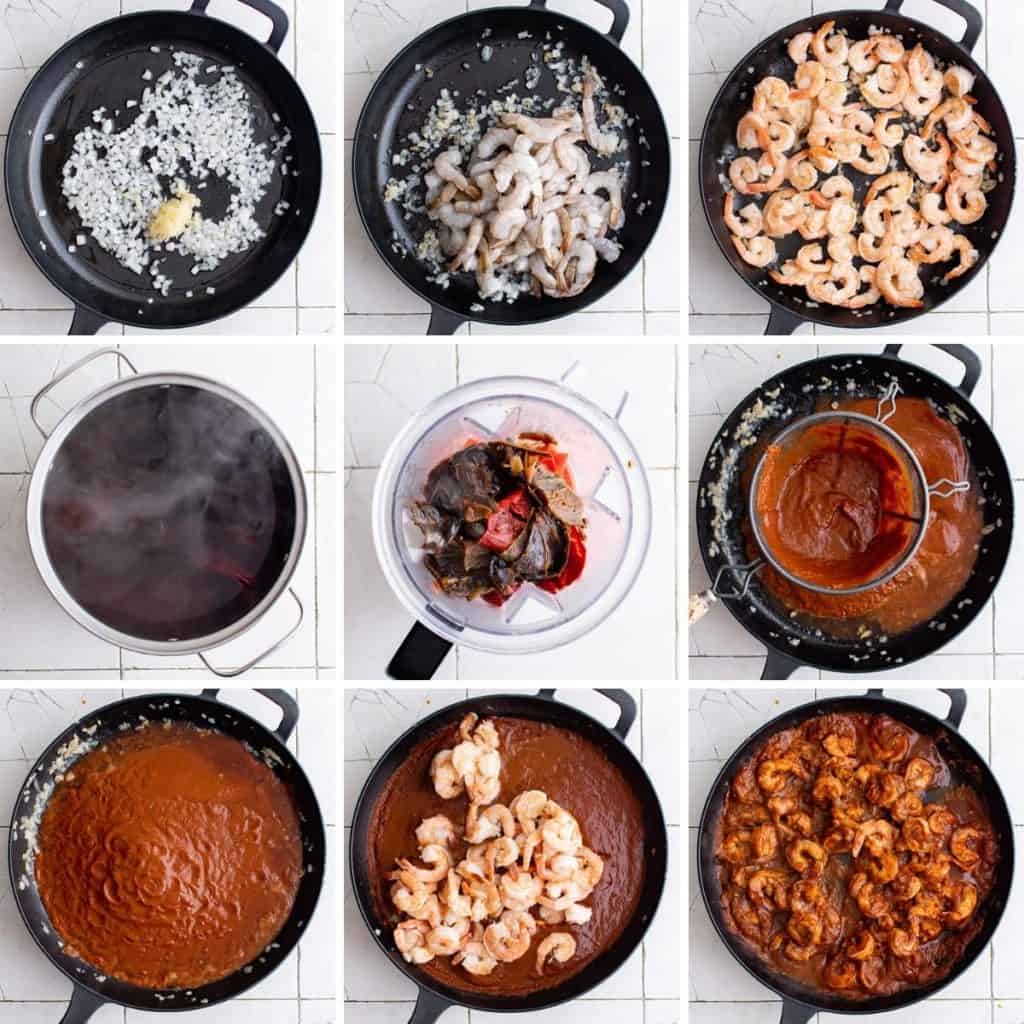 Recipe Tips
Do not use shrimp that is already cooked for this recipe as pre-cooked shrimp can get rubbery when overcooked.
Make sure to use dried spices when making this recipe as they have a stronger, more pronounced flavor compared to their fresh counterparts.
Do not add salt until after you've tasted the sauce because canned tomatoes can already be quite salty.
If your shrimp are larger than 16-20 count per pound, cut them in half before cooking so that they are not too large.
If the sauce becomes too thick, add a little bit of water to thin it out.
Variations
Shrimp Diablo can be served over pasta, rice, or quinoa for a complete meal.
Don't like seafood? Try making this dish using diced chicken breast.
To make this dish vegetarian-friendly, substitute the shrimp with chunks of extra firm tofu that have been drained and patted dry.
Add a can of black beans to the shrimp diablo for an extra boost of protein and fiber.
If you're looking for a spicier dish, add more chile peppers or use hotter varieties like jalapeno peppers.
In place of the apple cider vinegar, try using white vinegar or red wine vinegar for a different flavor profile.
If you're in the mood for a smoky flavor, add some chipotle peppers to give this recipe an extra kick.
Add bell pepper chunks along with the garlic and onion to the shrimp diablo sauce if desired.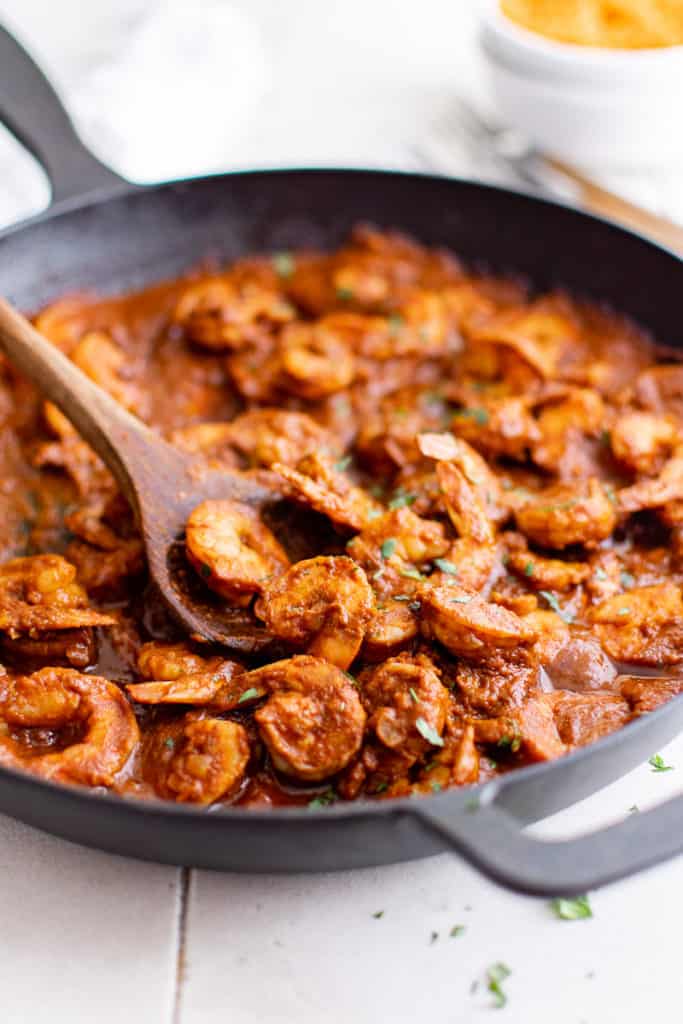 Storing and Freezing
Storing: Store any leftovers in an airtight container in the fridge for up to four days. This dish can also be made in advance and served at room temperature or cold. Simply let it cool completely before refrigerating or freezing.
Freezing: Freeze shrimp diablo in an airtight container for up to two months. Thaw overnight in the fridge before reheating.
More Seafood Recipes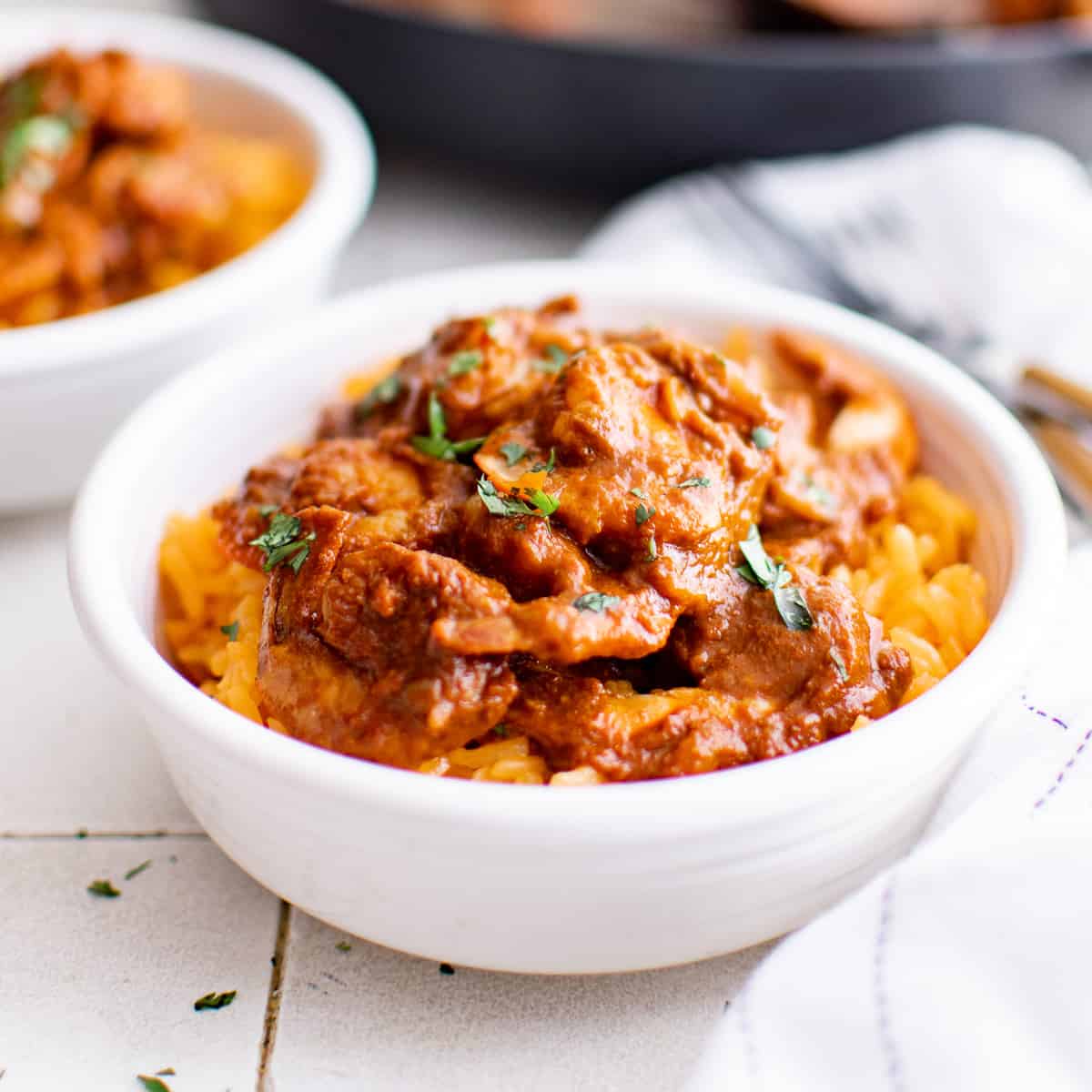 Shrimp Diablo
Shrimp Diablo is made with tender shrimp that are tossed in a homemade spicy chili pepper sauce. Serve these Mexican spicy shrimp over rice, pasta, or alongside your favorite side dishes!
Ingredients
1 tablespoon canola oil
½ white onion, diced
2 cloves of garlic, finely minced
24 ounces of large shrimp, peeled with the tail on
6 Roma tomatoes, cut into fourths
2 tablespoons apple cider vinegar
1 teaspoon ground cumin
1 teaspoon dried coriander
1 teaspoon dried oregano
½ teaspoon salt
Instructions
Heat a large skillet over medium heat. Add the canola oil and onion, and cook until the onion becomes translucent.
Add the garlic, and cook until it becomes fragrant, about 1 minute. Then add the shrimp, and cook until they start to curl and turn pink. Remove the shrimp from the pan, and set aside.
While the shrimp is cooking, bring a large pot of water to a boil, add the pasilla, chile arbol, and guajillo peppers, and boil for 10 minutes.
Drain the peppers, and add them to a large blender along with the tomatoes, apple cider vinegar, cumin, coriander, oregano and salt. Blend until smooth.
Strain the sauce through a fine mesh sieve into the pan that was used to cook the shrimp. Cook for 5 minutes or until the sauce begins to come to a low simmer.
Stir in the shrimp and cook for another 3-4 minutes or until the sauce reaches the desired thickness. Serve with freshly chopped cilantro for garnish and Mexican rice or pasta if desired.
See post for storage options.
Notes
*The calories listed are an approximation based on the ingredients in the recipe card and a serving size of 1 ¼ cup shrimp diablo. Actual calories will vary.
*For more information, tips, and answers to frequently asked questions, please refer to the post.
*Calories do not include rice, pasta, etc.
*Photos courtesy of Karla Rae Photography.
Recommended Products
As an Amazon Associate and member of other affiliate programs, we may earn a commission from qualifying purchases.
Nutrition Information:
Yield:

4
Serving Size:

1 1/4 cups
Amount Per Serving:
Calories:

276
Total Fat:

7g
Saturated Fat:

1g
Trans Fat:

0g
Unsaturated Fat:

5g
Cholesterol:

359mg
Sodium:

1886mg
Carbohydrates:

12g
Fiber:

2g
Sugar:

4g
Protein:

40g
*The calories are an estimate and are based on the ingredients and serving size listed. The calories can vary depending on the brand of product purchased.