Rhubarb Crisp is an easy dessert that's the perfect balance between sweet and tart with a crunchy oat topping.
A great crisp recipe is one of my absolute favorite things to serve for dessert. It's sweet, fairly light, and goes well with any kind of dish. This rhubarb crisp is no different. We love to serve it after enjoying our sausage and potatoes skillet, baked flounder, and chicken with green beans and potatoes.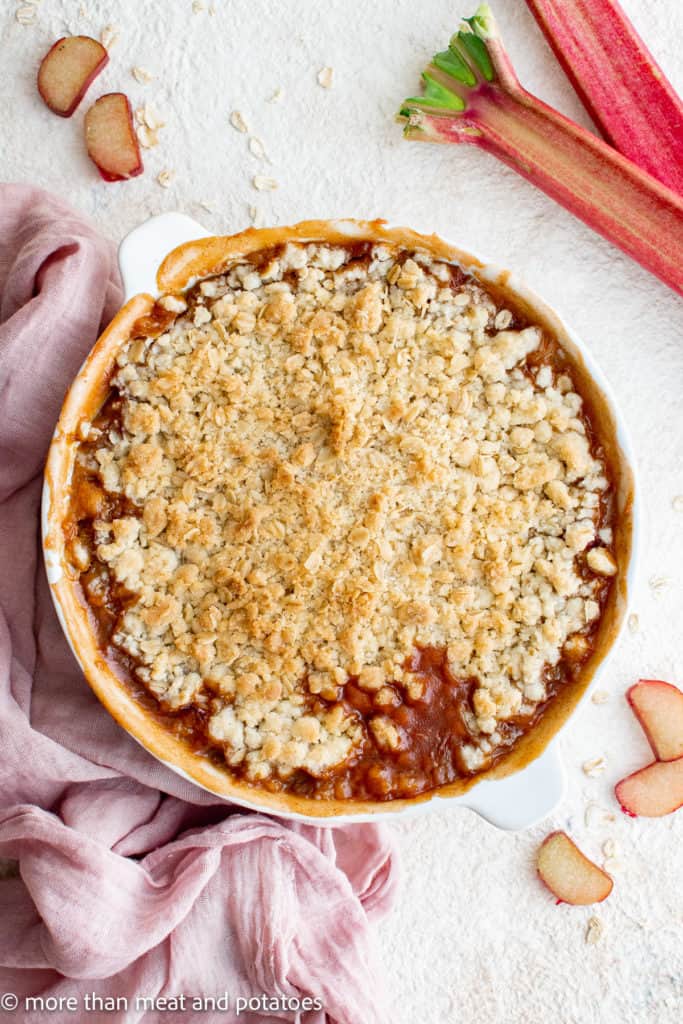 Rhubarb Crisp Recipe:
There's something really interesting about rhubarb crisp. Technically, rhubarb is a vegetable.
So, when you have rhubarb crisp, crunch, crumble, or whatever it's called in your house, you're having vegetables for dessert. How cool is that?
Most of the time when someone makes a crisp, they make it with fruit like blueberries, cherries, or apples. In this case, it's with a tart, tangy vegetable that gets sweetened with brown sugar and cooked down to a wonderfully thick filling.
The end result is the perfect balance of tart from the rhubarb and sweet from the brown sugar. You're family will love this recipe, and you'll love how easy it is to prepare.
It only takes about 10 to 15 minutes of prep work, and the rest is bake time. Serve it up with some vanilla ice cream, and it's a comforting Summer dessert.
Ingredients for Rhubarb Crisp
You'll find the full amounts further down the page.
Crumble Topping:
All-purpose flour: You'll need 1 cup of flour as part of this crispy topping.
Sugar: We use granulated sugar to sweeten the topping but light brown sugar also works well.
Oats: You'll need some oats to make this crumble topping crispy and crunchy. For this recipe, we use quick oats but old fashioned oats also work.
Butter: We use ½ cup (8 tablespoons) of butter to give this topping extra flavor and to hold everything together. Unsalted or salted works.
Rhubarb Filling:
Fresh Rhubarb: You'll need about 6 cups of fresh rhubarb.
Brown Sugar: We use light brown sugar but dark brown sugar also works. It gives the filling a richer flavor.
Water: You'll need ¼ cup of water to cook the rhubarb and another ¼ cup to make a cornstarch slurry.
Seasonings: We use vanilla and cinnamon to add extra flavor to this crisp.
Cornstarch: You'll need about 2 tablespoons of cornstarch to thicken the rhubarb filling.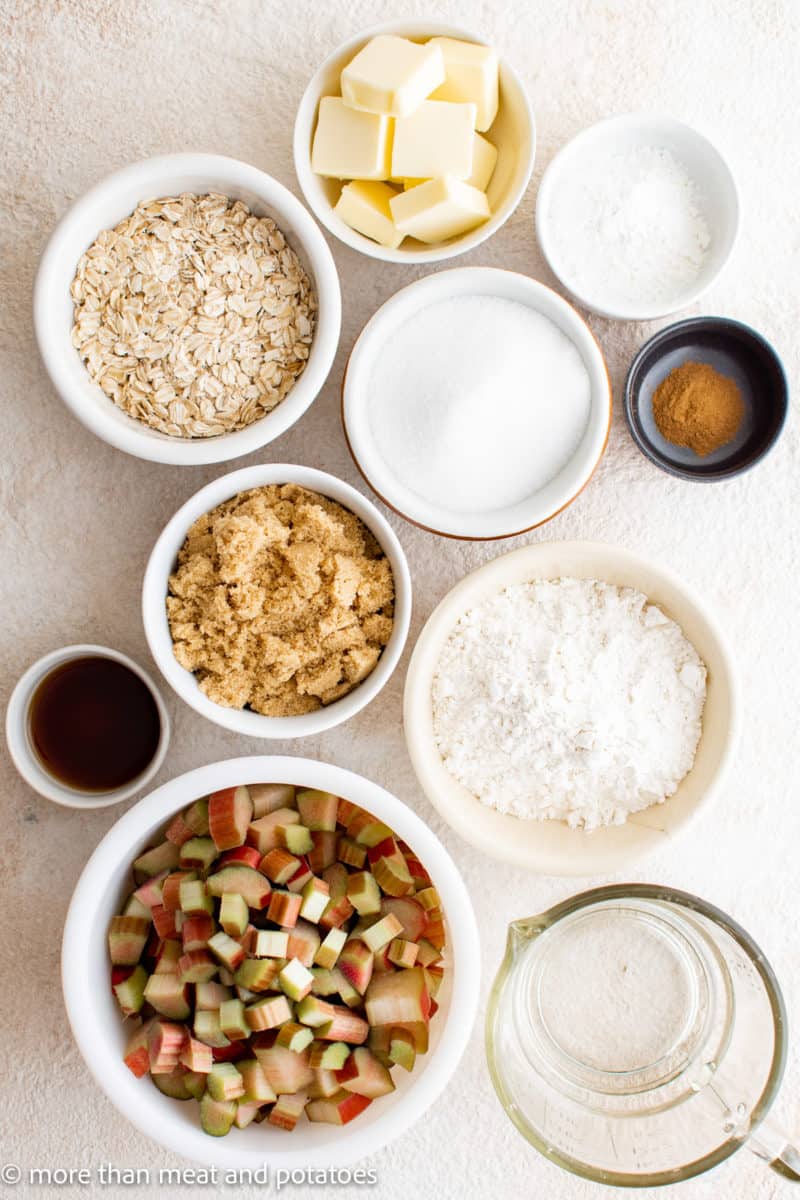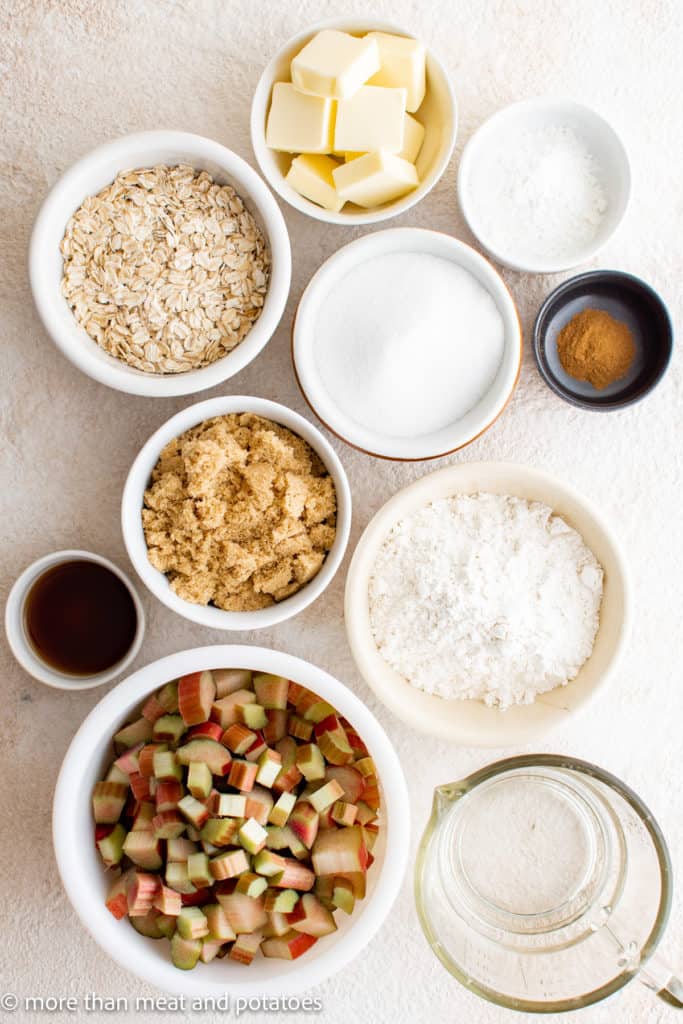 Prepare the Rhubarb Crisp:
Scroll to the recipe card below for the ingredient amounts and full instructions.
In a medium bowl, combine the flour, sugar, and oats.
Use a fork, pastry cutter, or you hands to cut in butter until the mixture is coarse and the butter is well distributed.
Place in the refrigerator while you make the filling.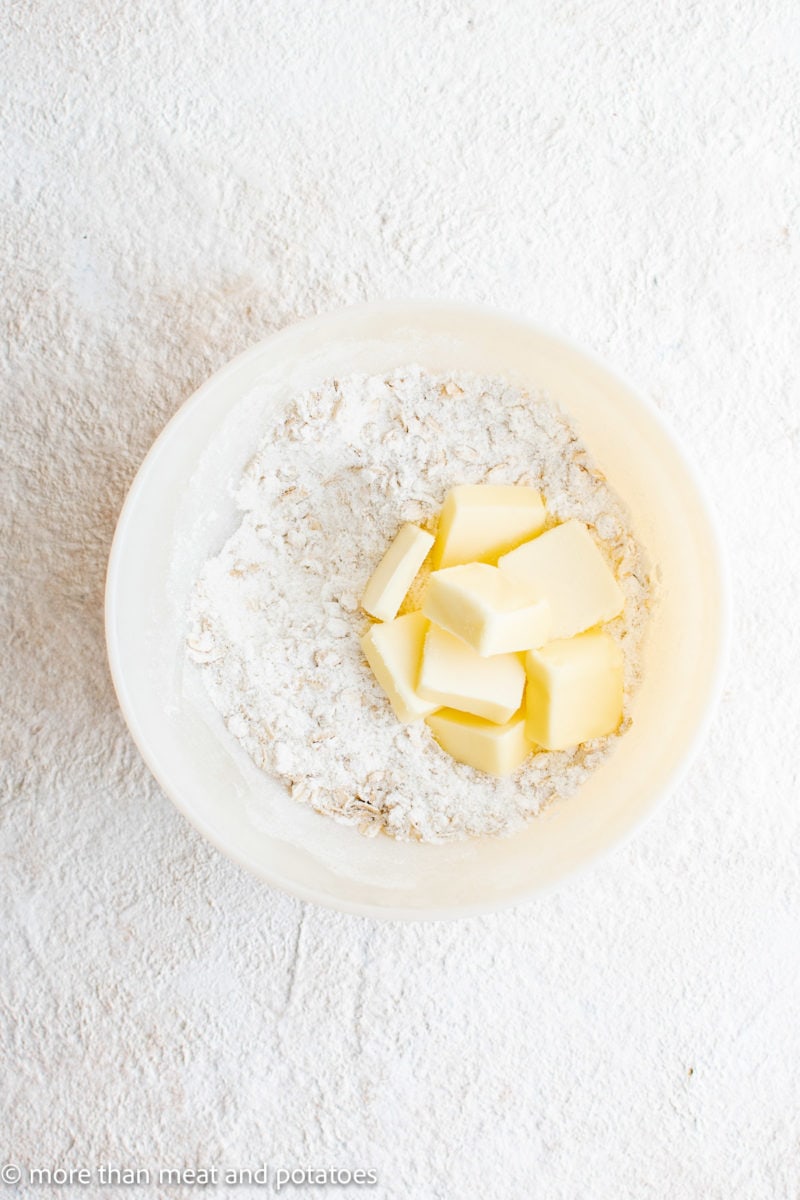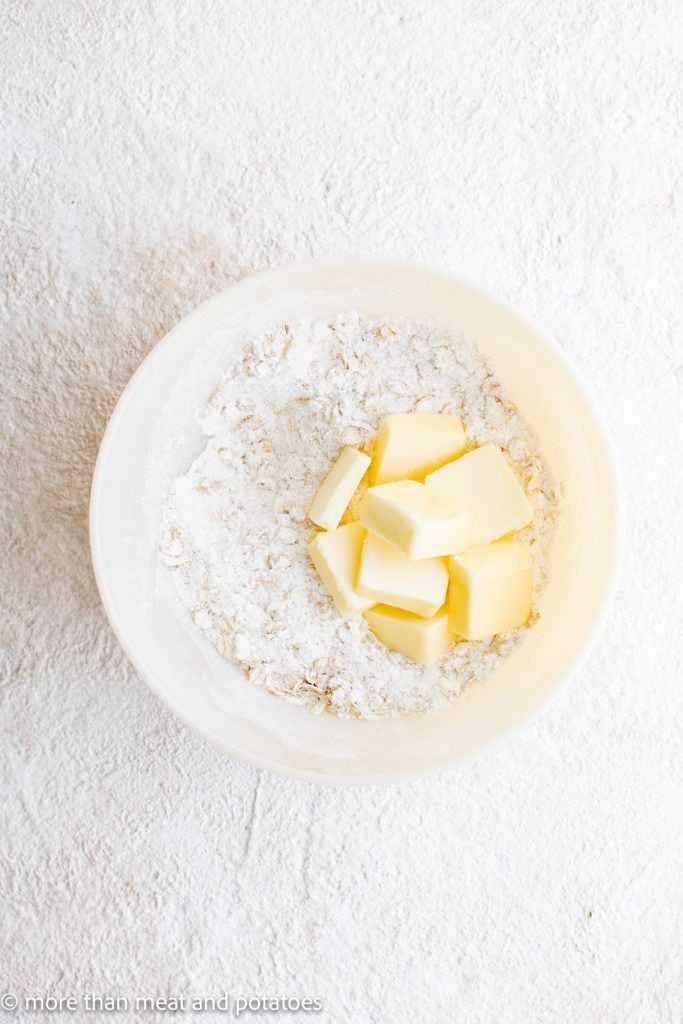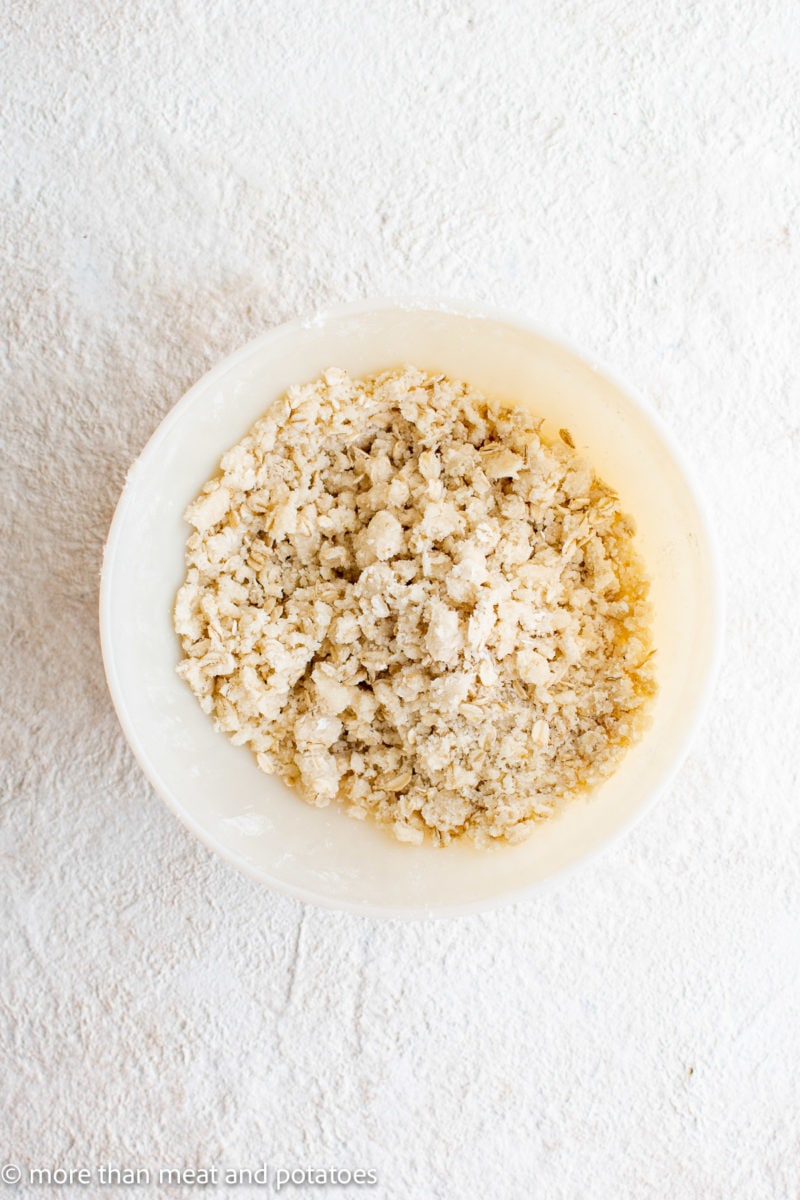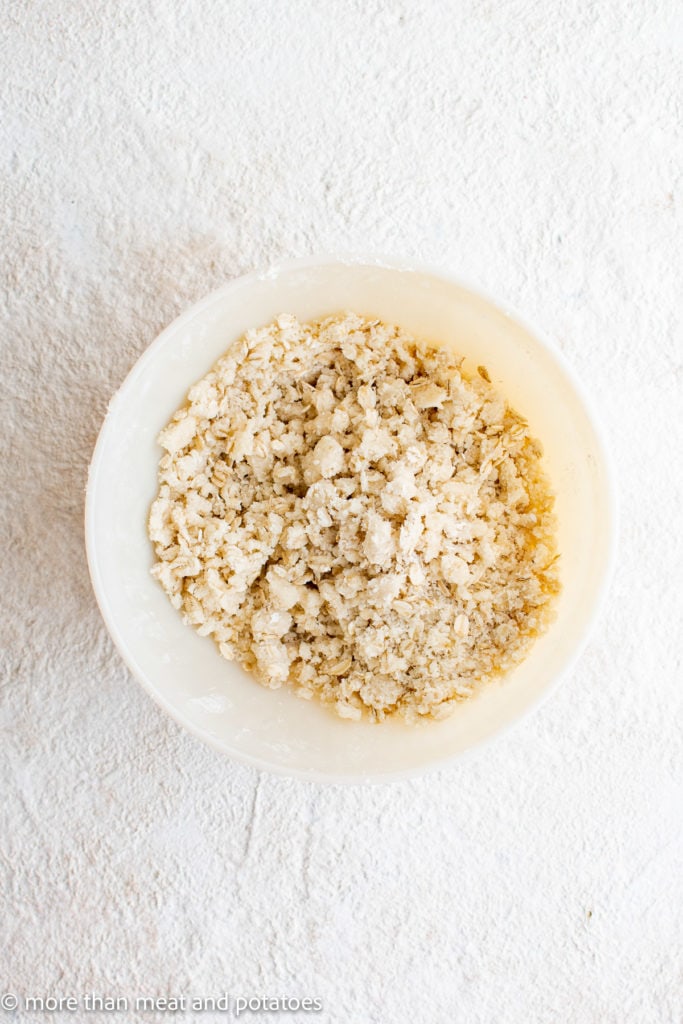 In a medium saucepan, combine the rhubarb, brown sugar, ¼ cup of water, vanilla and cinnamon. Stir to combine, and simmer for about 5 minutes.
While the filling cooks, make a slurry by combining the remaining ¼ cup of water and cornstarch until smooth.
Pour the slurry into the mixture, and stir for 2 to 3 minutes until thickened. Remove from heat.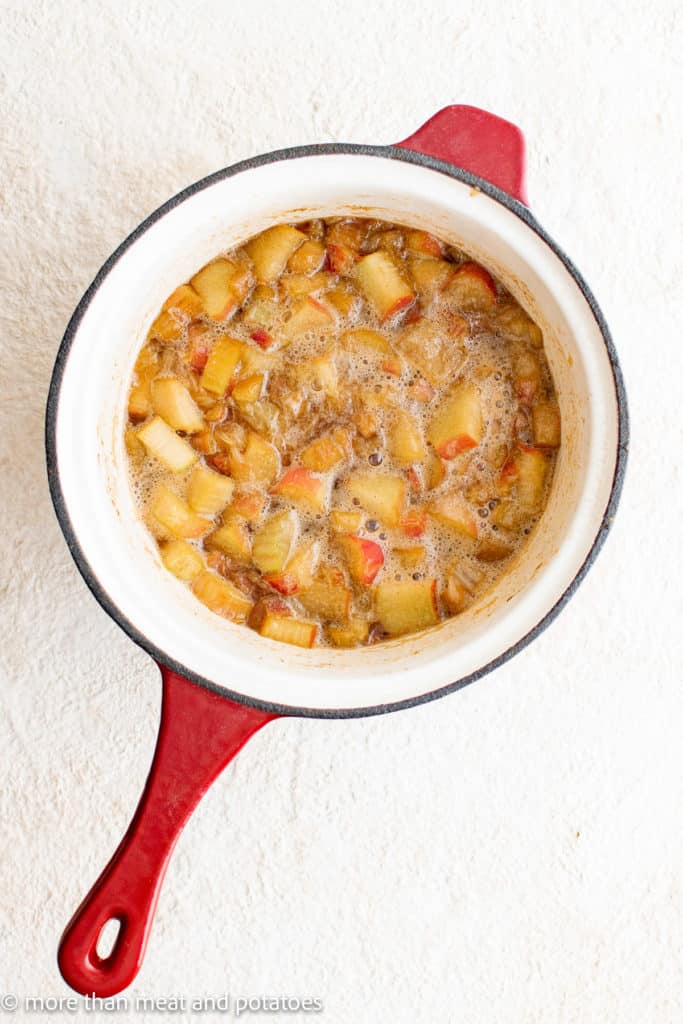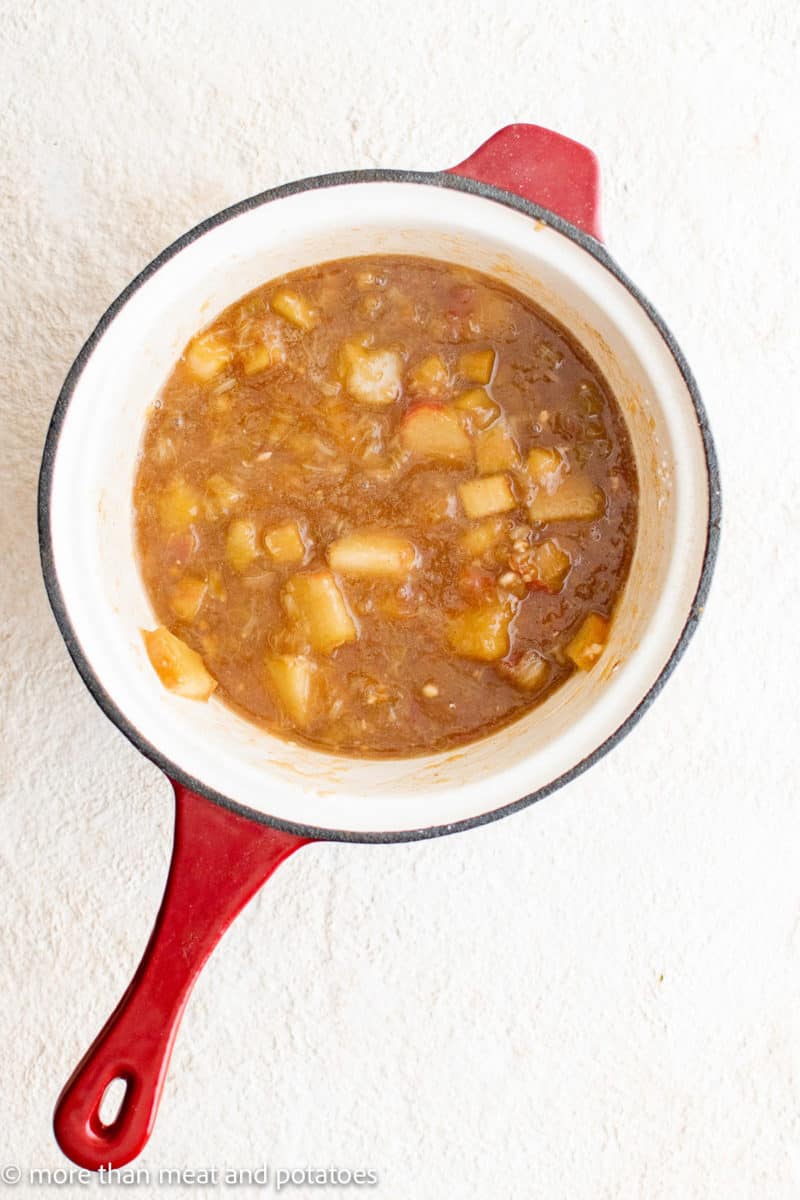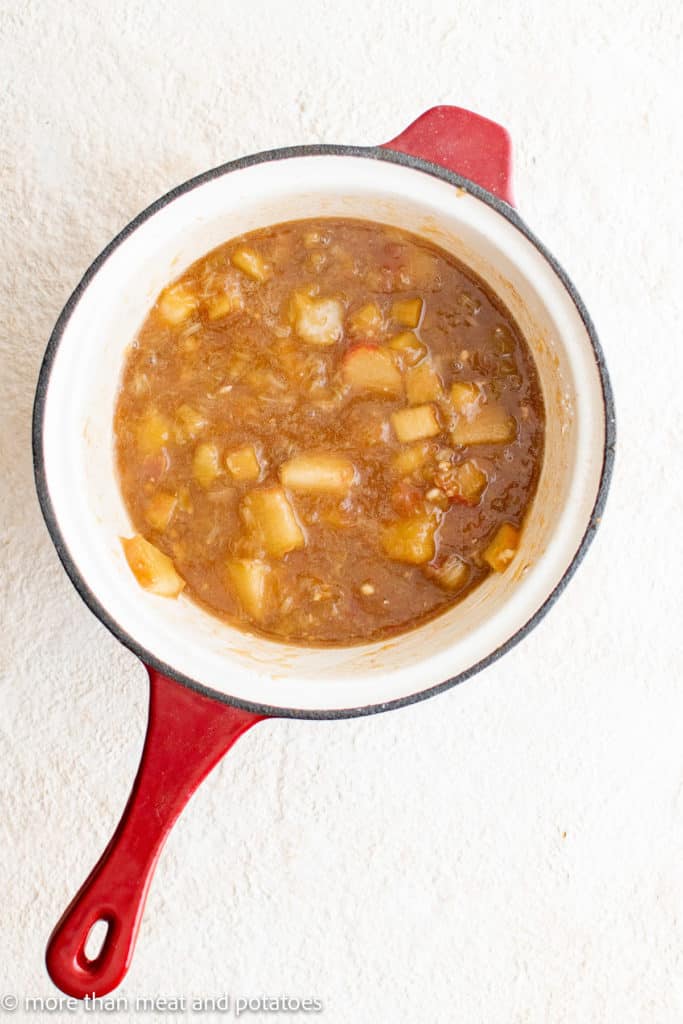 Transfer the filling to the prepared baking dish. Sprinkle the crumb topping over the filling.
Bake for 30 to 35 minutes until the topping is lightly browned and the filling bubbles around the edges.
Allow the crisp to cool for 5 to 10 minutes before serving.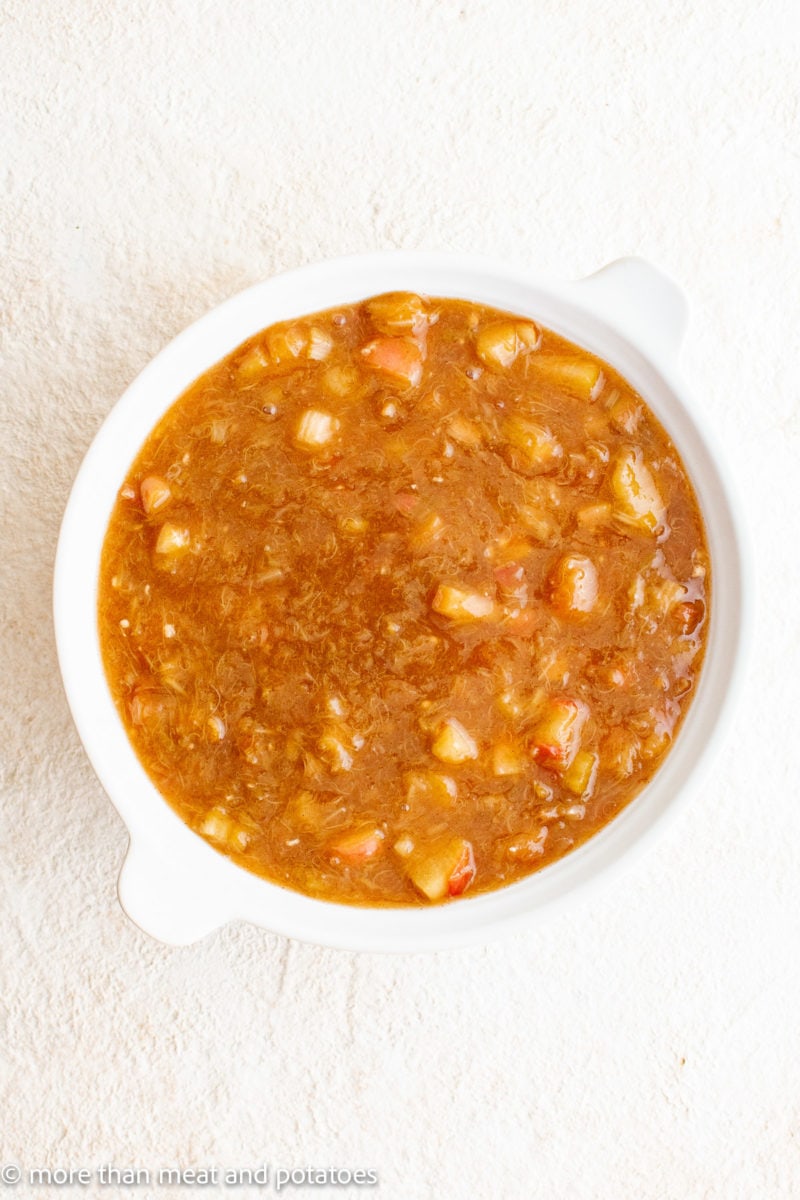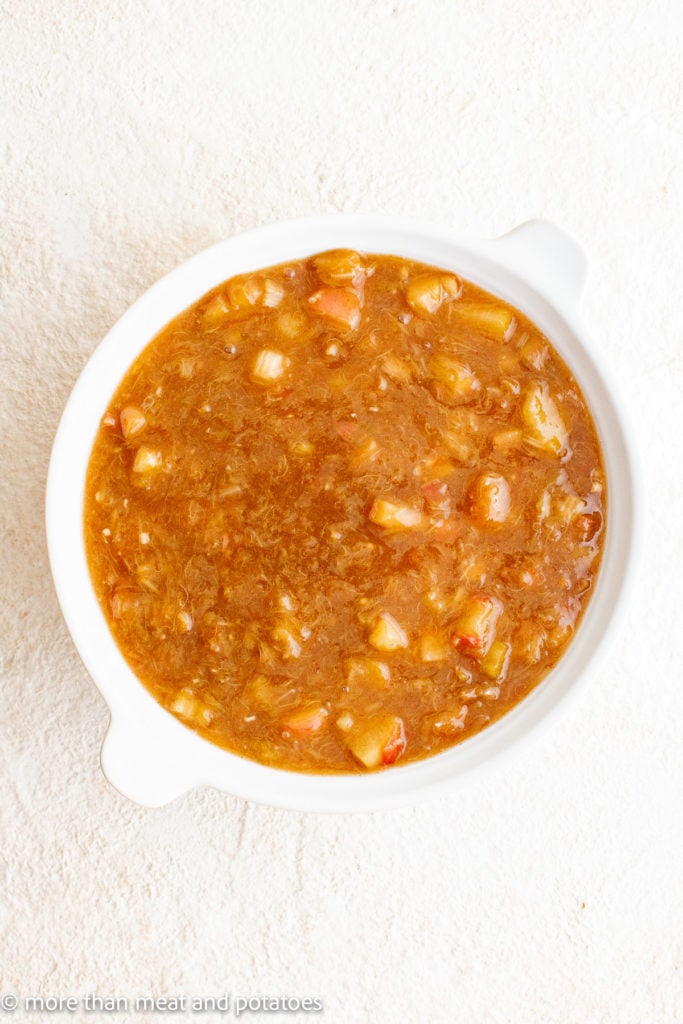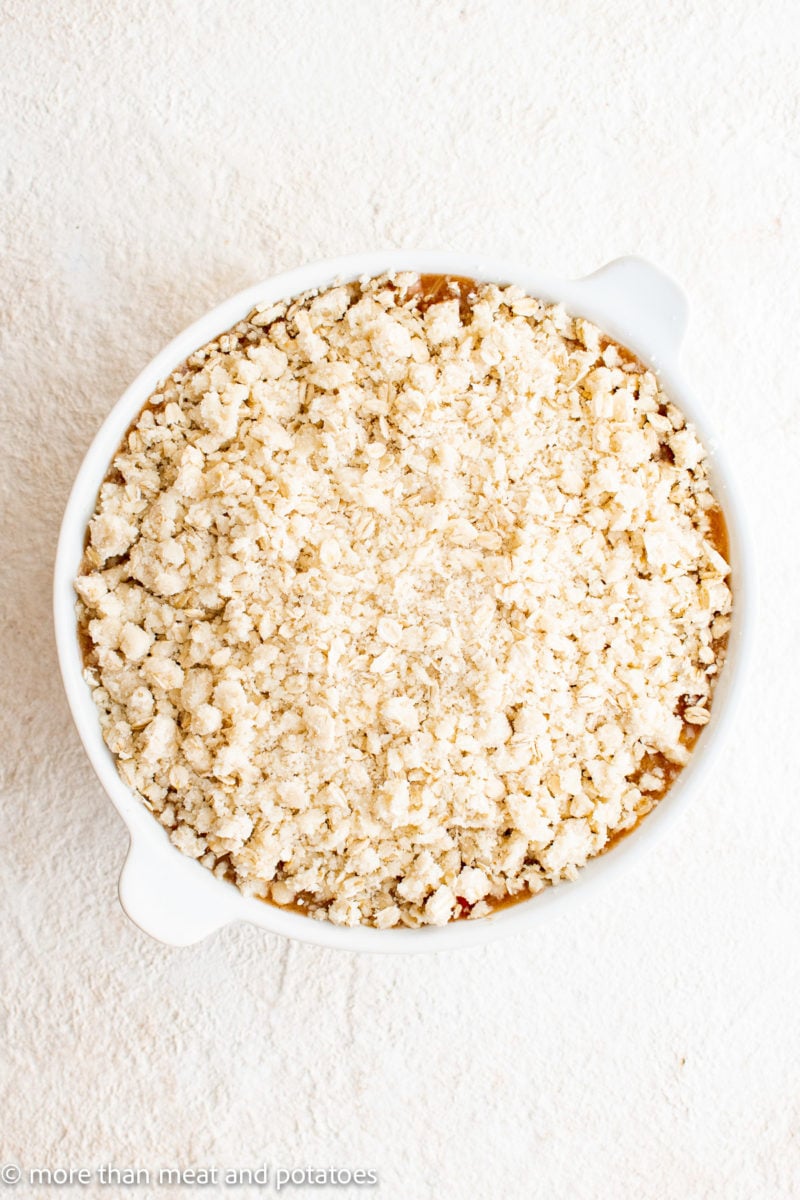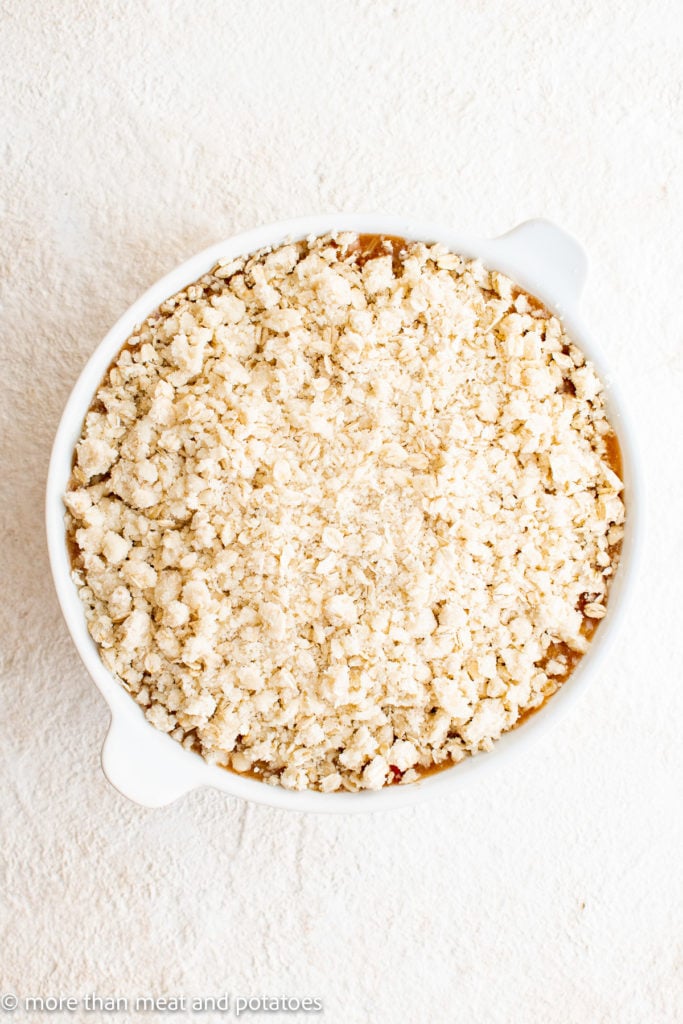 Rhubarb Crisp Tips and Variations:
Preparing the Rhubarb: Rhubarb is located in the produce section of the supermarket. The ends are thick and inebilbe as are the green leafy tops. Both the ends and tops should be cut away and discarded. The center stem is long, thin, and pinkish-red in color. It doesn't need to be peeled prior to cooking, but wash it thoroughly. For this recipe, dice it into 1-inch pieces or a tad smaller.
Add Some Fruit: Apple and strawberry are commonly found in recipes alongside rhubarb. Not only do they add great flavor, but they bring sweetness that pairs well with the tartness of the rhubarb. If you want to add some fruit to this recipe, cut out about 3 cups of rhubarb and replace it with the fruit of your choice. If the fruit has a high water content, like strawberries, you may want to consider leaving out some or all of the water in the recipe. Otherwise, it may be too watery, and the filling will be too thin.
Topping: Swap out rolled oats for the quick oats for a heartier topping. Brown sugar can be used in place of granulated sugar, too. Cinnamon, nutmeg, chopped pecans, and walnuts are also great additions.
Use Flour: If you'd prefer not to use cornstarch as a thickener, omit all of the water and the cornstarch and toss the rhubarb in ¼ cup of all-purpose flour, sugar, and cinnamon. After the ingredients are well mixed, drizzle in the vanilla and mix again. Place the mixture into the prepared baking dish, and top with the crumb topping. Bake for about 35 minutes. *If you add fruit (apples, strawberries, etc.) to this method, you'll want to increase the flour slightly to compensate for the extra moisture.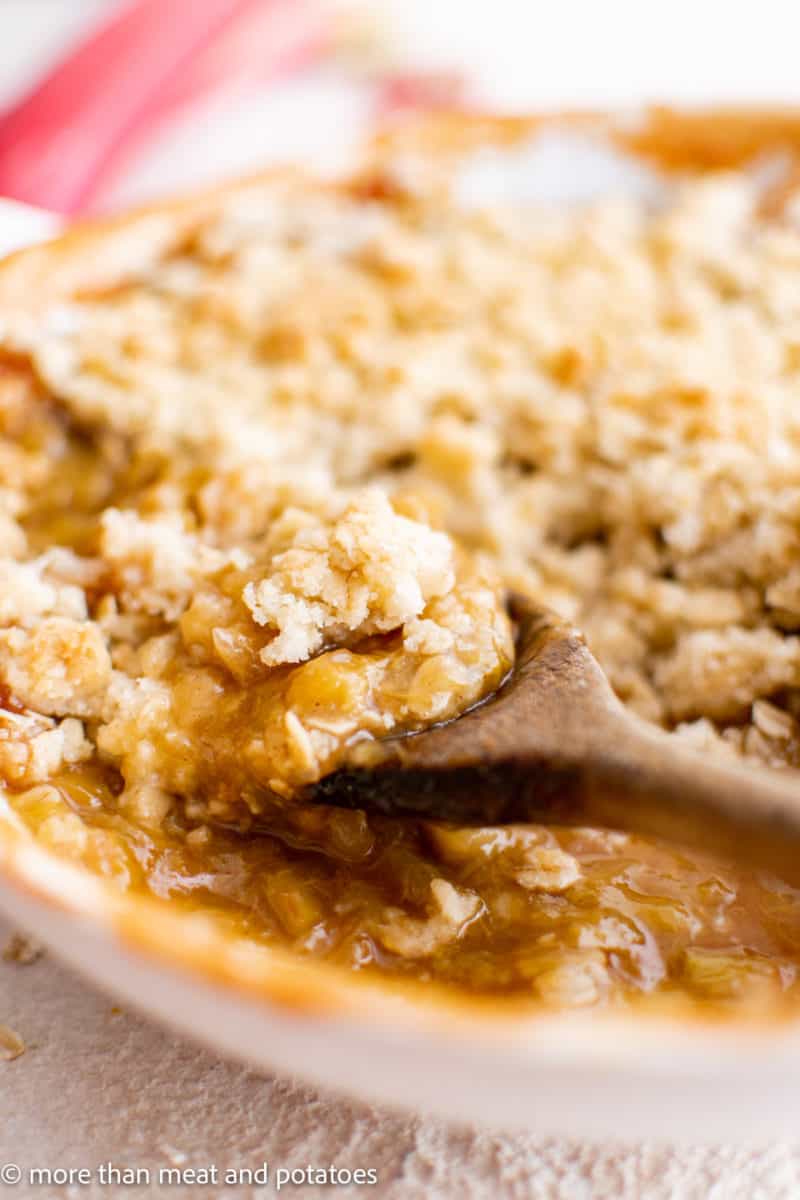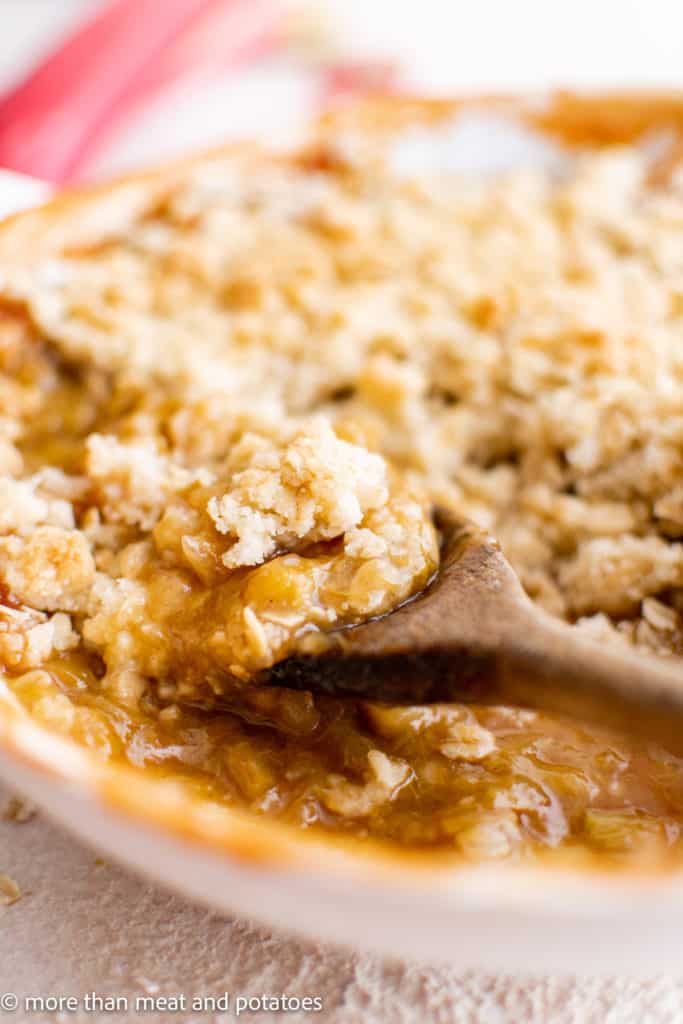 Storage Recommendations:
Room Temperature: We do not recommend storing this dessert at room temperature.
Refrigerator: This crisp stays fresh when stored in an airtight container in the refrigerator. Discard any leftovers after 5 days.
Freezer: Rhubarb freezes really well. It can be washed, dried, diced, and placed on a parchment lined baking sheet until they're firm to the touch. Transfer the pieces to plastic bags, and they should last in the freezer for up to a year. The frozen rhubarb can be used to make this rhubarb crisp year round, so you don't have to wait for rhubarb season.
Rhubarb crisp can be prepared ahead of time and then frozen. Make the crisp all the way through until you get the part where it should be baked. Instead of baking the crisp, wrap it well in plastic wrap and aluminum foil. It will stay good in the freezer for about 2 to 3 months.
When you're ready to bake the frozen crisp, remove it from the freezer, and allow it to thaw at room temperature for about 30 minutes to an hour. This gives it a chance to warm up slightly and lessens the chance of fractures forming in the baking dish. Remove the plastic wrap and foil, and bake as directed, and enjoy!
More Summer Desserts You'll Love
Recipe Card with Ingredient Amounts and Instructions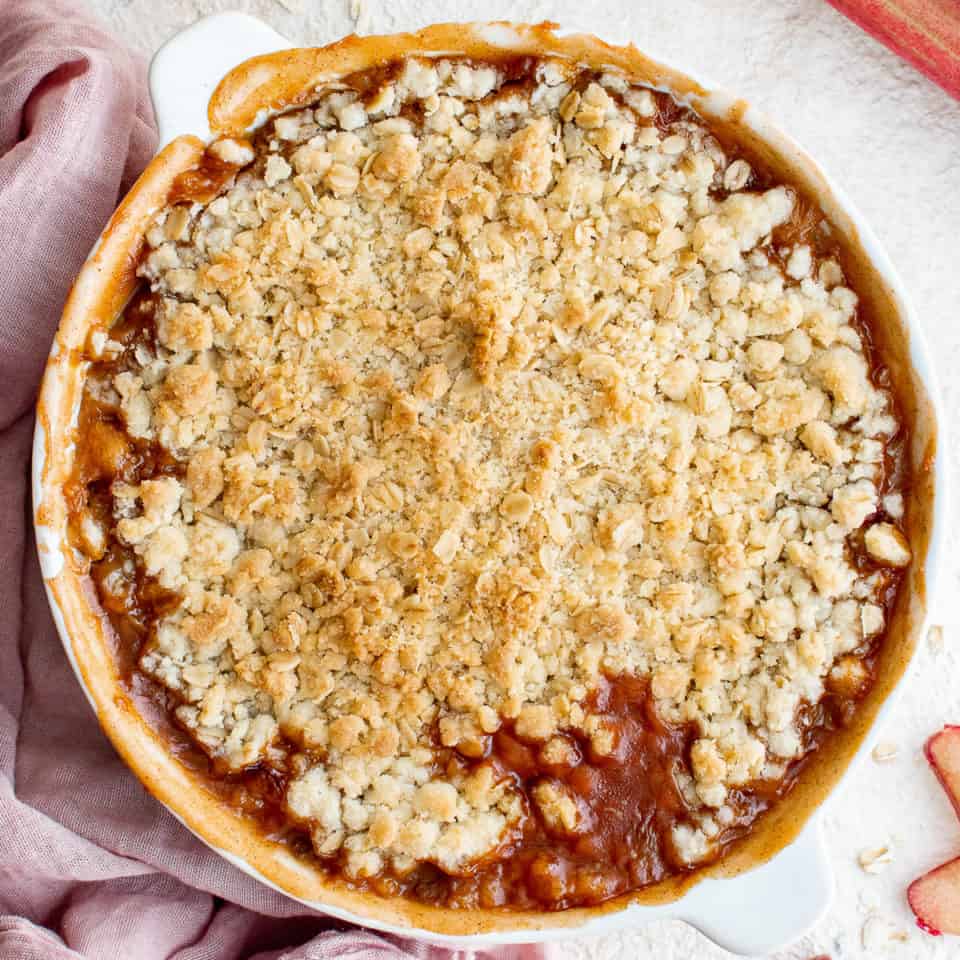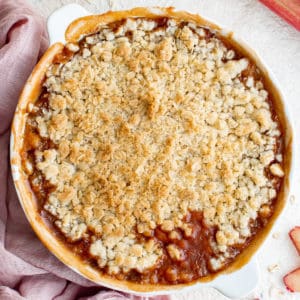 Ingredients
Crumb Topping
1

cup

all-purpose flour

¾

cup

granulated sugar

¾

cup

quick oats

½

cup

unsalted butter

,

softened
Filling
6

cups

rhubarb

,

fresh, diced

¾

cup

light brown sugar

½

cup

water

,

divided

2

teaspoons

pure vanilla extract

1

teaspoon

ground cinnamon

2

tablespoons

cornstarch
Instructions
Preheat the oven to 400°F, and lightly grease an 8-inch round, 8 x 8-inch baking dish, or 2-quart dish.
For the Crumb Topping
In a medium bowl, whisk the flour, sugar and oats together in a medium size bowl then cut the butter into the mixture using a pastry cutter or a fork until a grainy mixture starts to form.

1 cup all-purpose flour

¾ cup granulated sugar

¾ cup quick oats

½ cup unsalted butter

Transfer the crumb topping to the refrigerator while you prepare the filling.
For the Rhubarb Filling
Add the rhubarb, brown sugar, ¼ cup of water, vanilla and cinnamon to a medium saucepan. Bring to a simmer over medium heat, and cook for about 5 minutes.

6 cups rhubarb

¾ cup light brown sugar

2 teaspoons pure vanilla extract

1 teaspoon ground cinnamon

While the rhubarb mixture cooks, make a slurry by mixing the remaining ¼ cup cold water and 2 tablespoons of cornstarch until smooth. Add the slurry, and stir until the mixture beings to thicken, about 2 to 3 minutes.

Add the rhubarb mixture to the prepared baking dish then sprinkle the crumb topping around the top.

Bake for 30 to 35 minutes or until the top turns a light golden color and the center jiggles slightly. The filling will be bubbly around the edges. Allow the crisp to rest for five minutes before serving. Serve warm with vanilla ice cream!

Store leftover crisp in the refrigerator for up to 5 days.
Notes
*The calories listed are an approximation based on the ingredients in the recipe card and a serving size of 1 cup of rhubarb crisp. Actual calories will vary.
*For more information, tips, and answers to frequently asked questions, please refer to the post.
*Photos/recipe courtesy of Karla Rae Photography.
Nutrition
Serving:
1
cup
Calories:
367
kcal
Carbohydrates:
62
g
Protein:
4
g
Fat:
12
g
Saturated Fat:
7
g
Polyunsaturated Fat:
1
g
Monounsaturated Fat:
3
g
Trans Fat:
0.5
g
Cholesterol:
31
mg
Sodium:
13
mg
Potassium:
341
mg
Fiber:
3
g
Sugar:
40
g
Vitamin A:
449
IU
Vitamin C:
7
mg
Calcium:
108
mg
Iron:
1
mg