Our savory turkey breast brine uses a combination of salt, sugar, and fragrant spices to create a perfectly seasoned turkey breast.
Who else is excited for Thanksgiving? It's a day dedicated to family and tasty recipes. This year, I wanted to brine a turkey breast for that special dinner. However, I knew I would need to practice making it in order to get the right formula.
After a few modifications, I think I've come up with the perfect blend of salty, sweet, and savory. Today, I'm sharing that formula with you. I hope you enjoy this turkey breast brine as much a I do. Need a side dish idea? Then take a look at these brie mashed potatoes and our homemade cranberry sauce!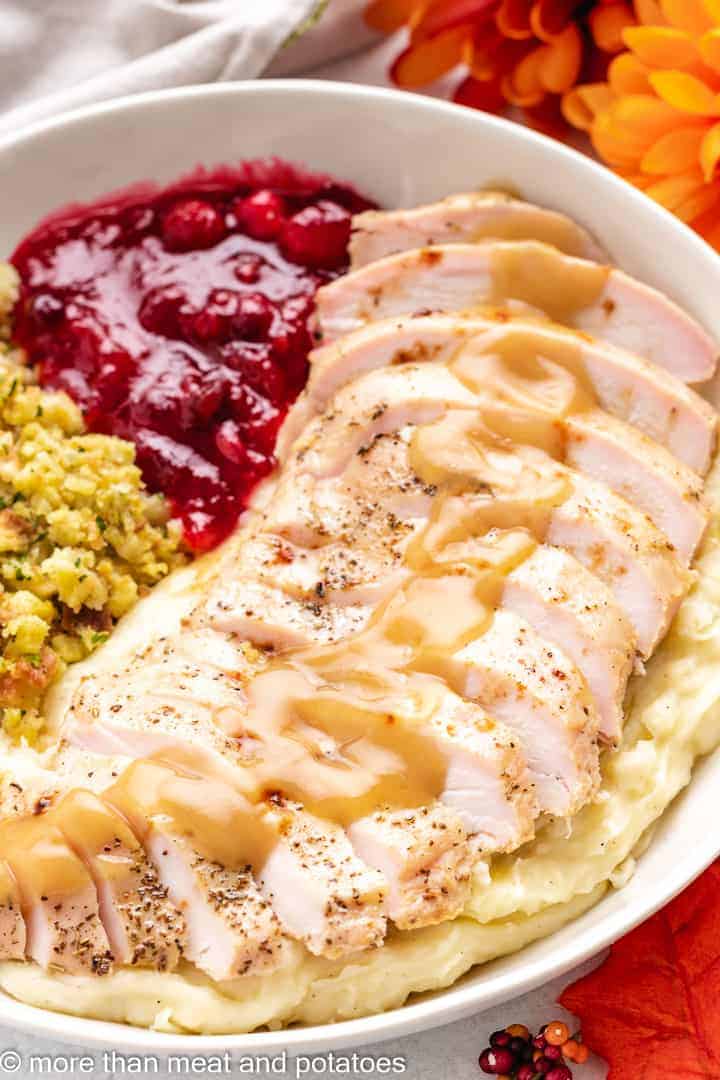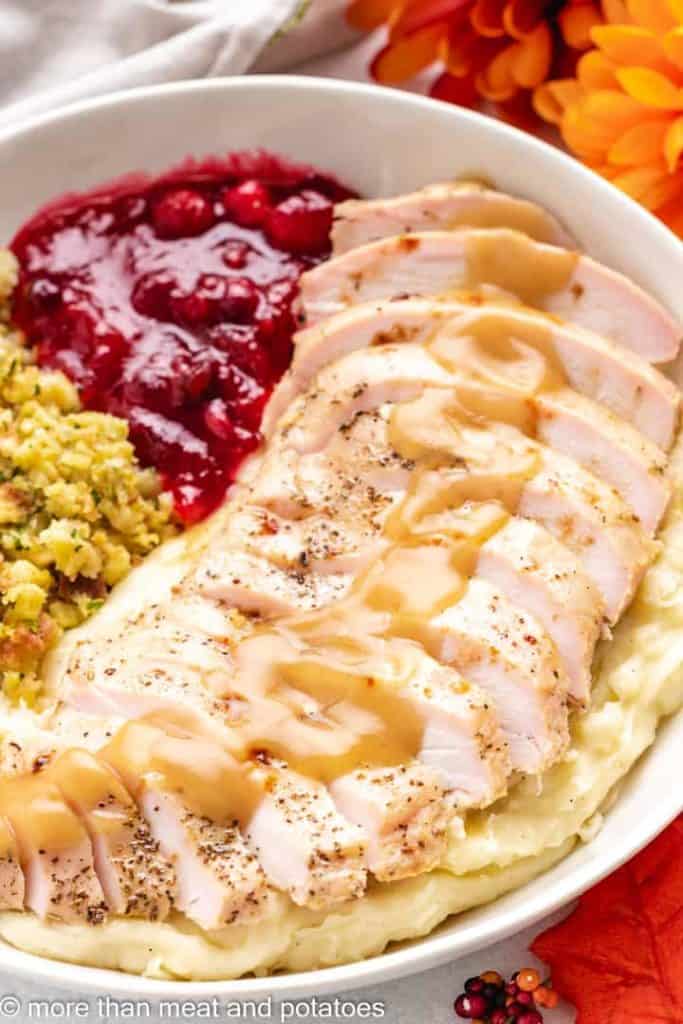 How to make a brine for turkey breast?
First, grab a large container with a lid. It needs to be big enough to hold the liquid and the poultry.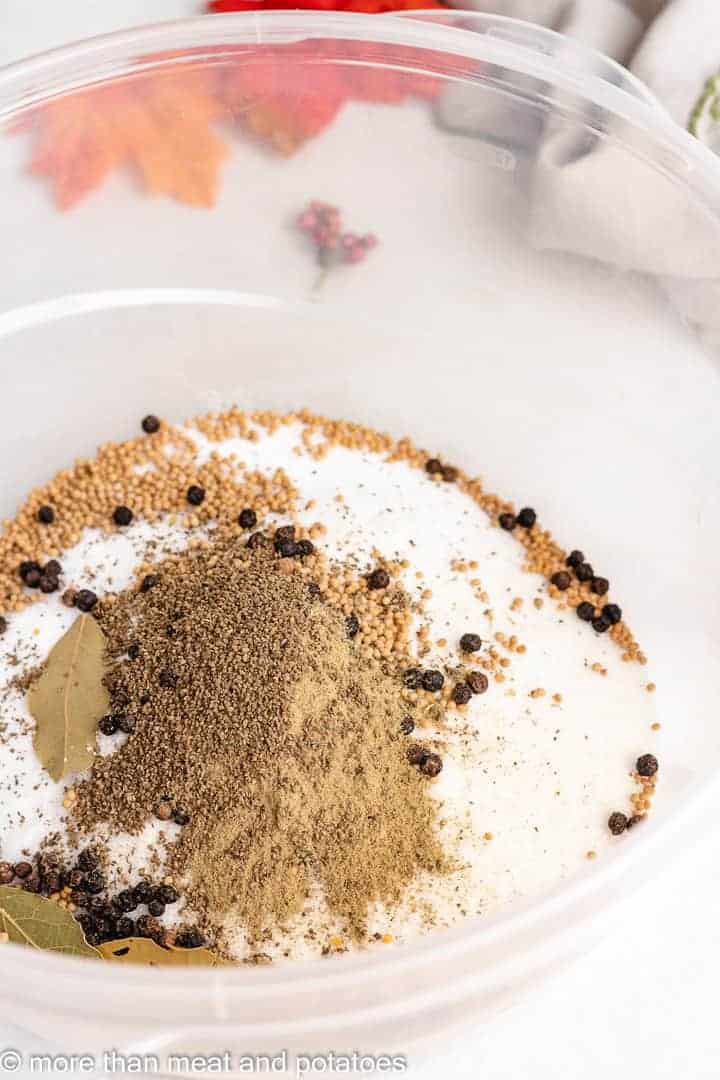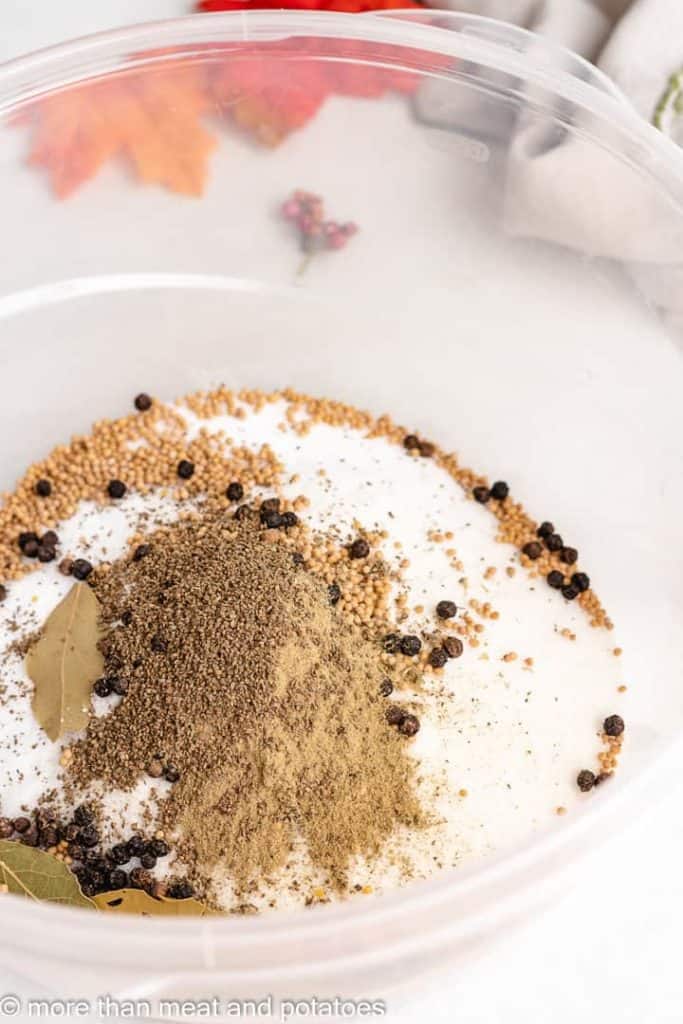 Next, in the container, combine the salt, sugar, mustard seed, peppercorns, sage, celery seed, and poultry seasoning.
After that, add the warm water to the container. Use a whisk or large spoon to stir the spice mixture into the water.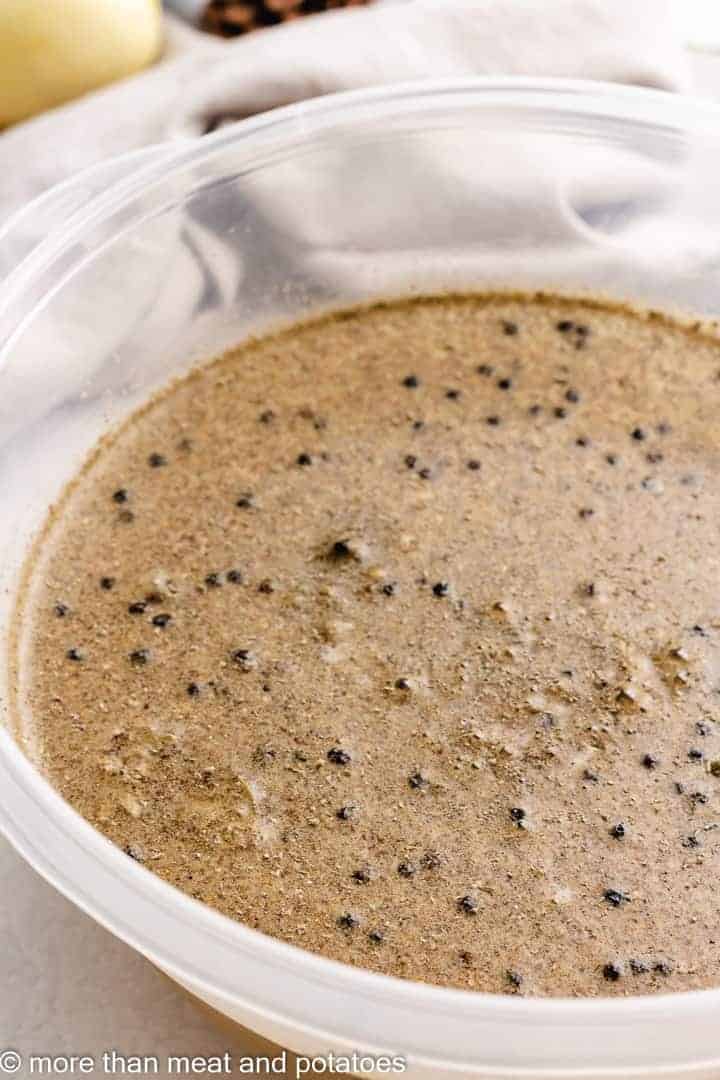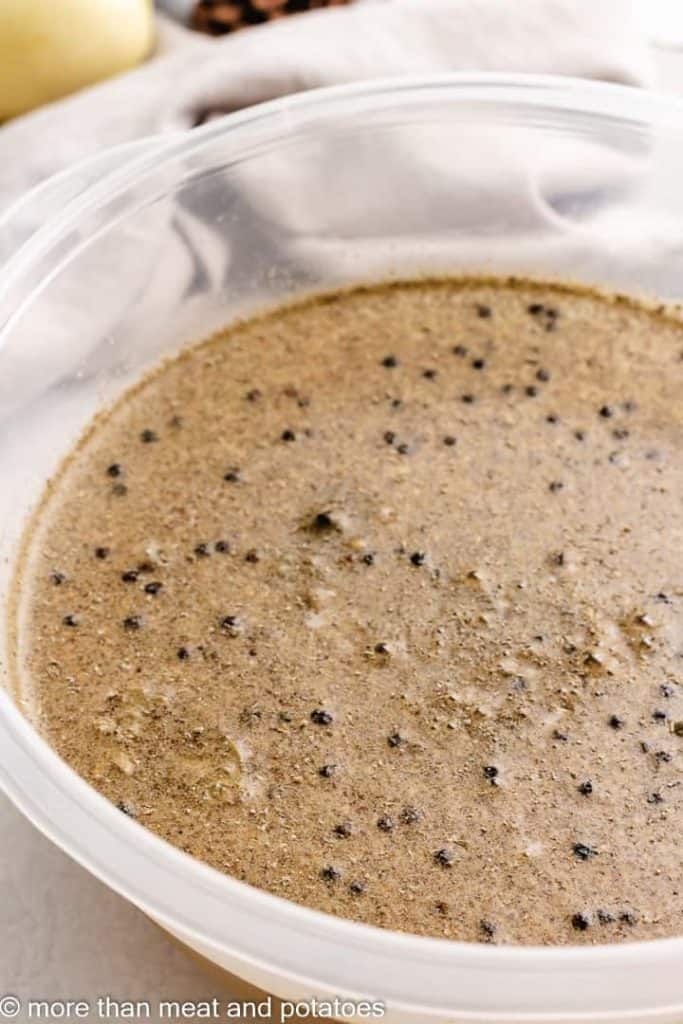 The sugar and salt should dissolve in the warm liquid. Now, place the turkey into the liquid.
Be sure to submerge the breast in the brine. Cover the container and place it into your fridge to chill for no more than 2 hours.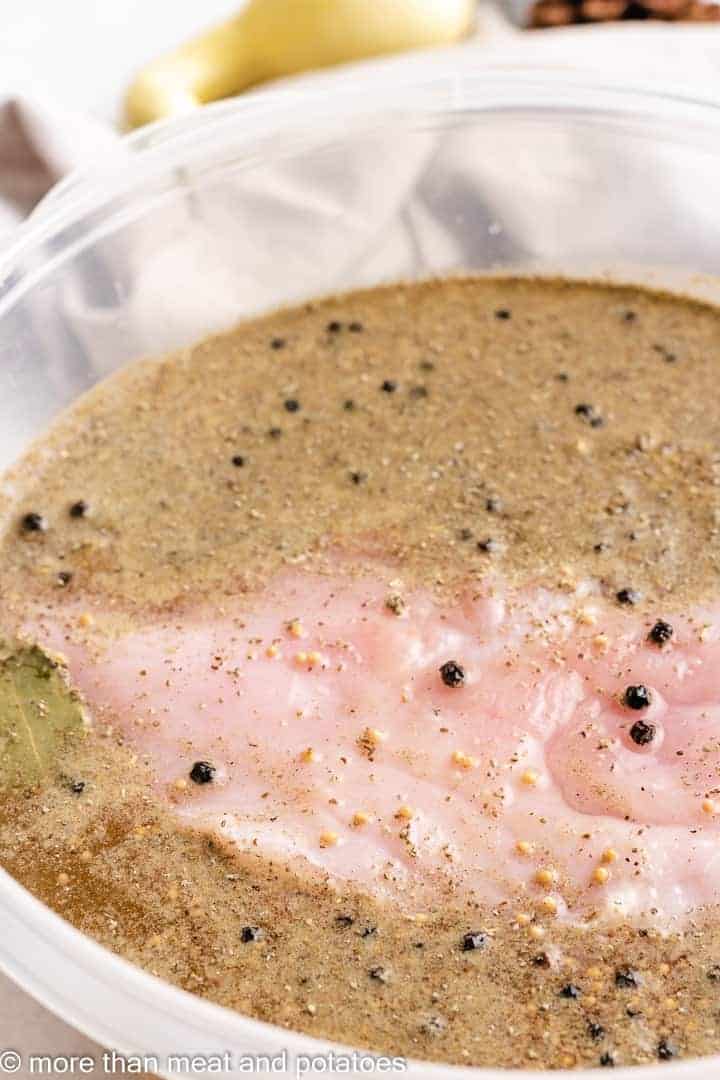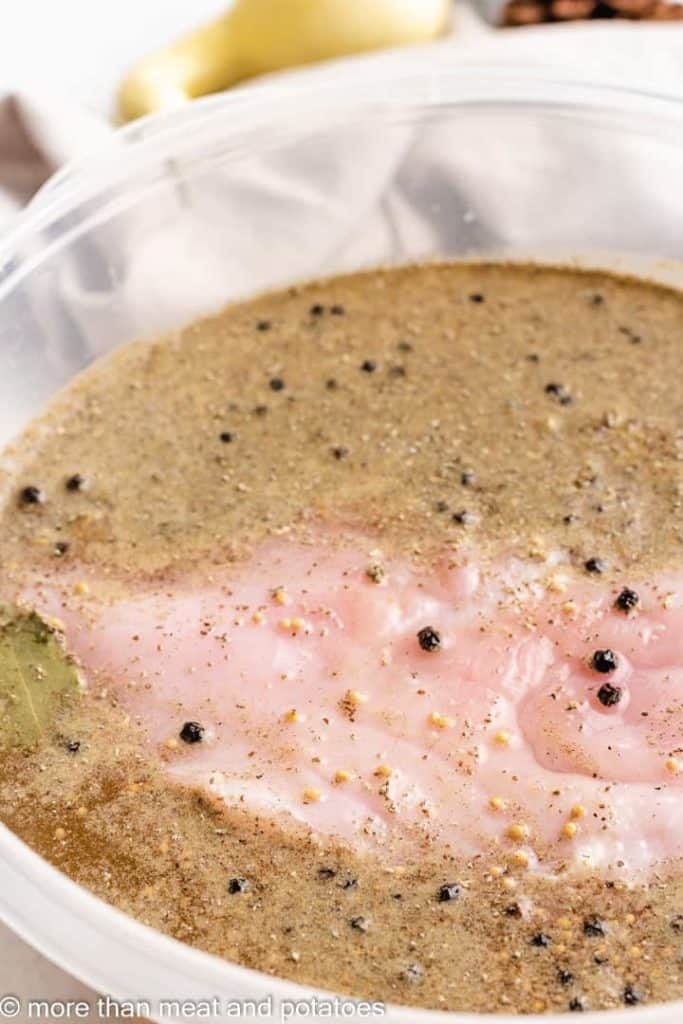 Then, remove the breast from the container. Pat it dry with paper towels.
Preheat your oven to 325 degrees F. and grease a large roasting pan. Place the turkey into the pan.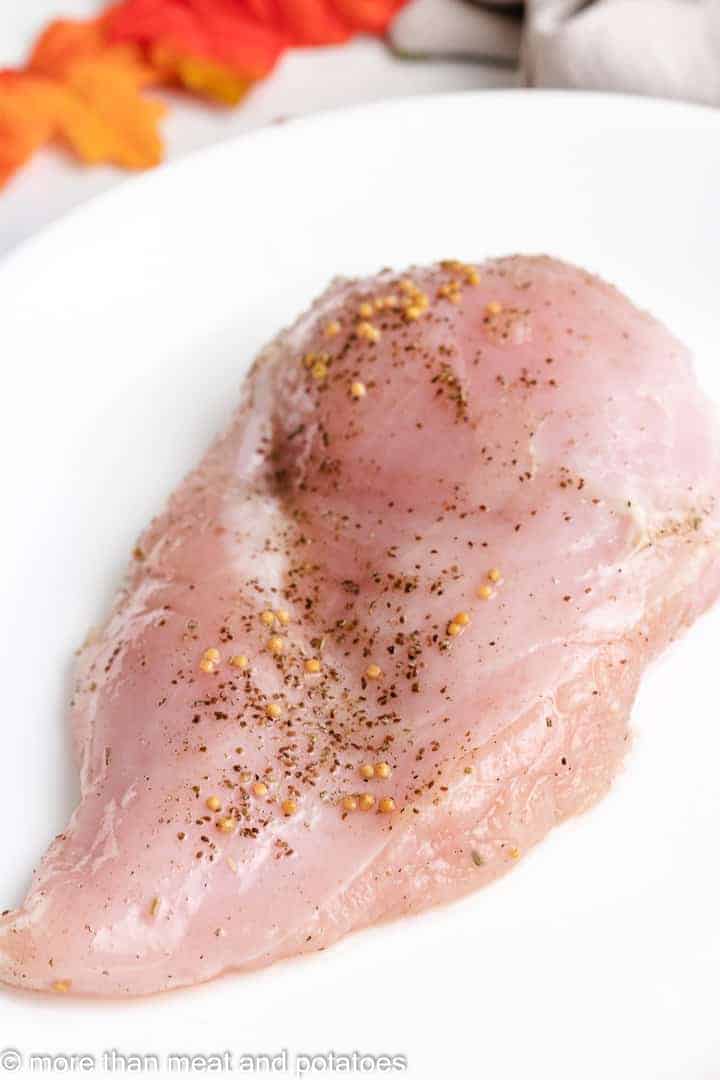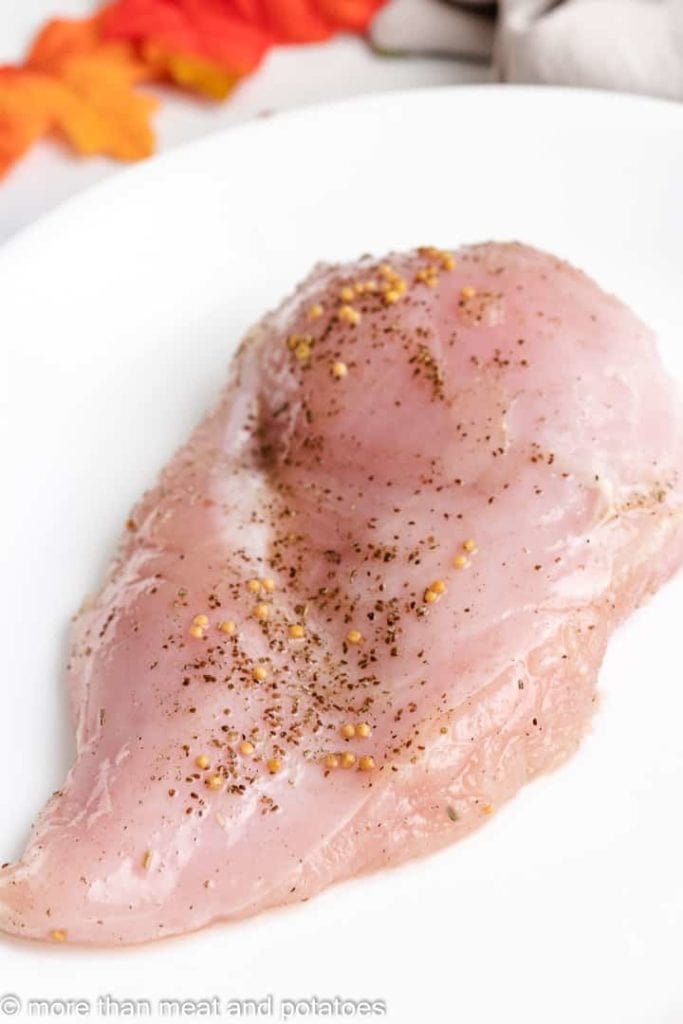 Discard the brine as it is no longer needed. Bake the turkey for about 2 hours or until it reaches 170°F, at its thickest point. Last, remove the poultry from the oven and let it rest for 10-minutes before slicing and serving.
That's it, your turkey breast is done! Kim and I hope you enjoy the recipe and wish you all the best 🙂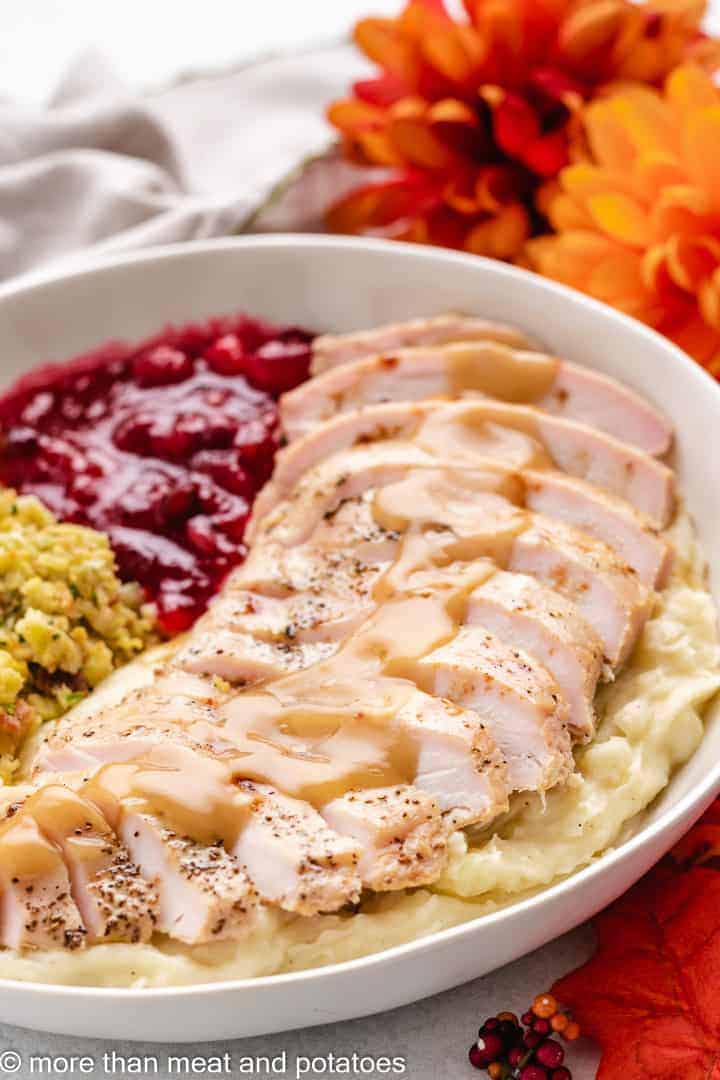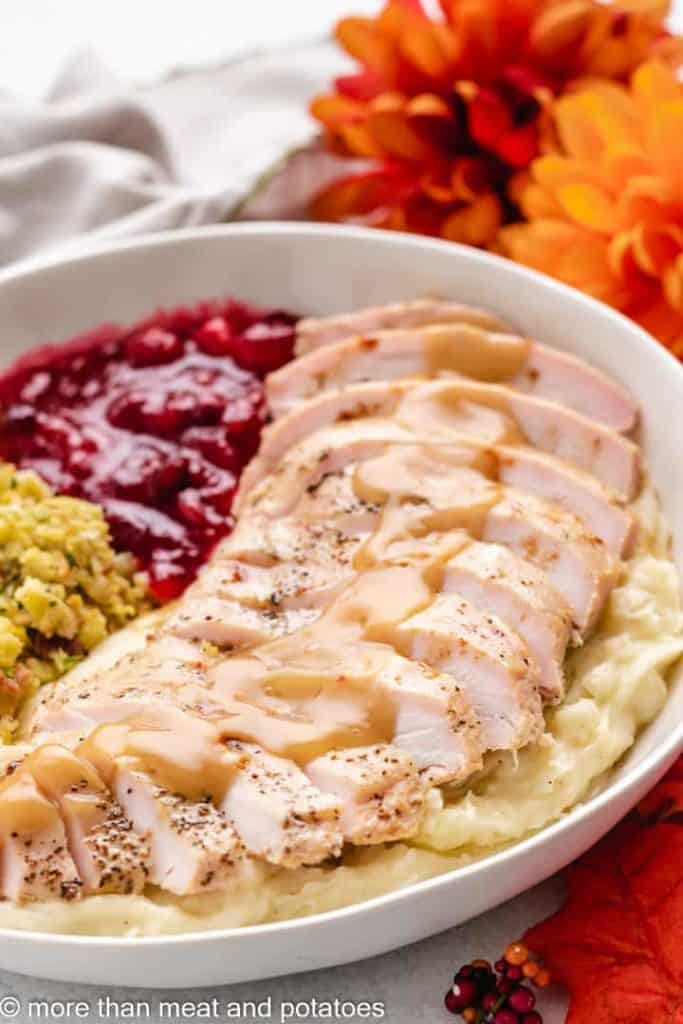 Recipe Tips
Be sure to purchase an unseasoned, raw turkey breast. Because, most commercial turkey breasts are already brined. So, adding our brine would cause the meat to be way over salted.
This brine will work on a whole turkey. However, you will need to increase all the ingredient amounts and the cook time.
Do not use hot water! Hot water will start the cooking process, ruining your turkey breast. The water should be warm to the touch. Similar to preparing formula for a baby bottle.
Why brine a turkey breast?
Turkey breast can be notoriously bland and dry. Brining the cut of poultry will both season it and keep it tender and juicy.
How long can a turkey sit in a brine?
The answer to this question varies. Personally, I don't let turkey brine for more than 2 hours. Because, brining meat for too long causes it's texture to change. It becomes grainy and stringy; like fast-food chicken. If that doesn't bother you, then by means, brine away. But, if you're like me and want to keep the integrity of the meat intact, then don't brine for more than 2 hours.
How I keep turkey breast juicy?
My personal secret is to baste the breast with melted butter every 20-30 minutes until it's done cooking. Now, I have zero scientific evidence to support that this works. It's just my own personal experience in the kitchen.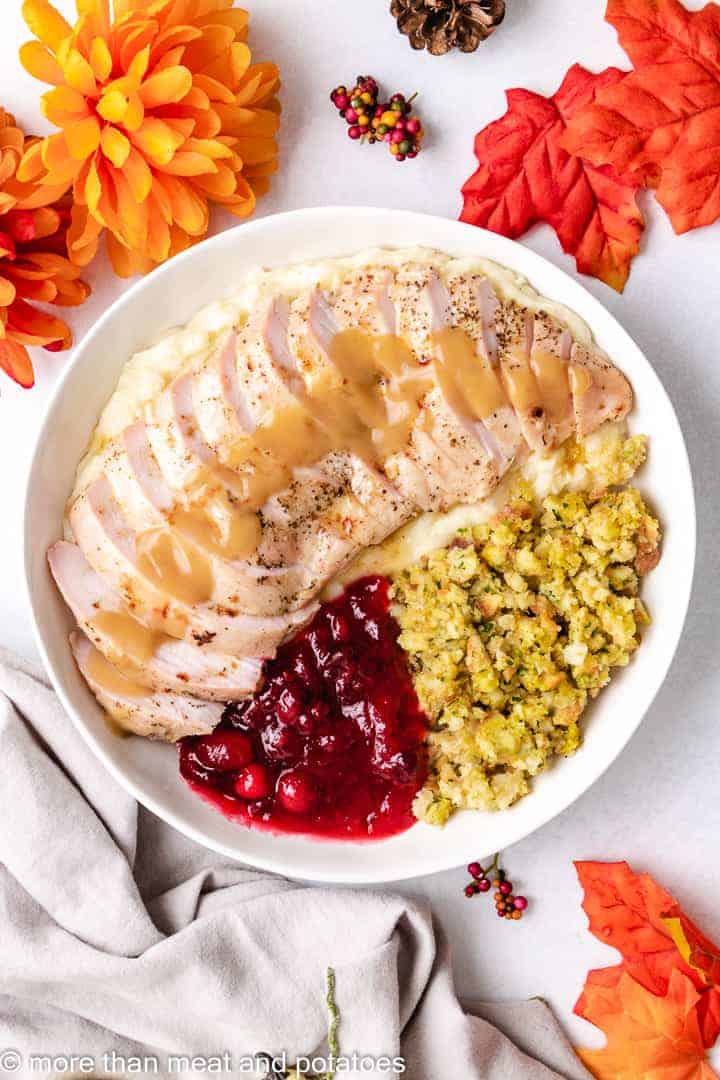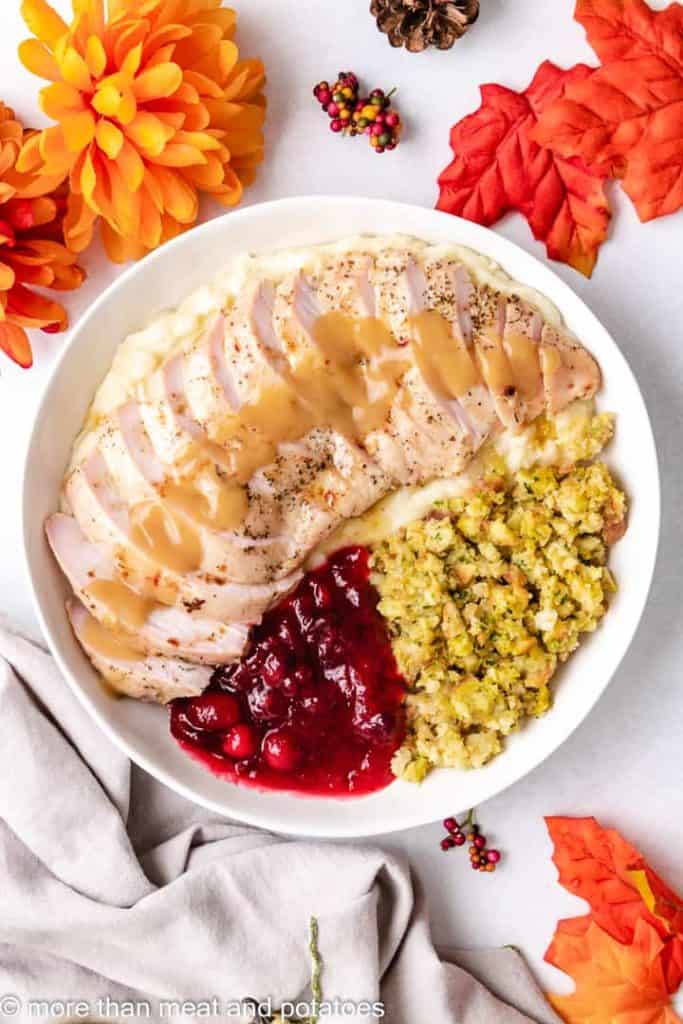 Recipe Card with Ingredient Amounts and Instructions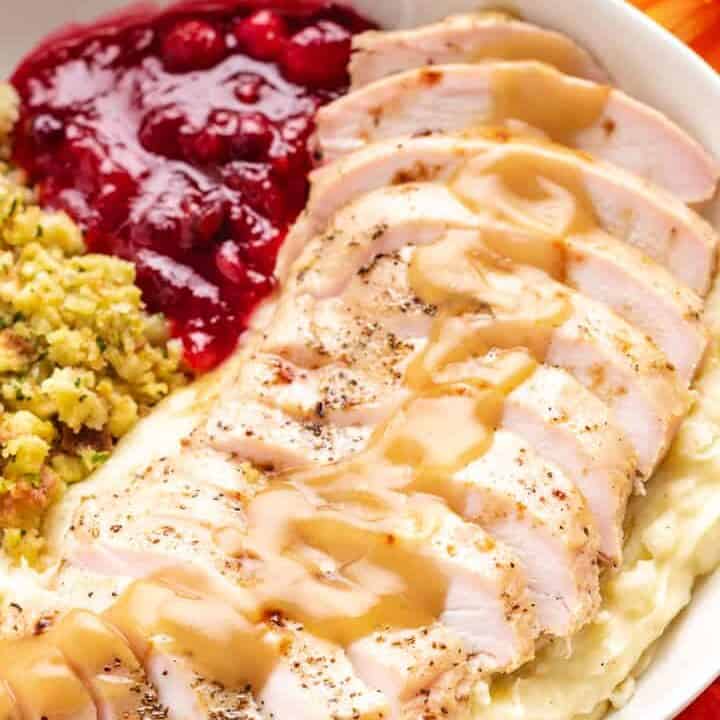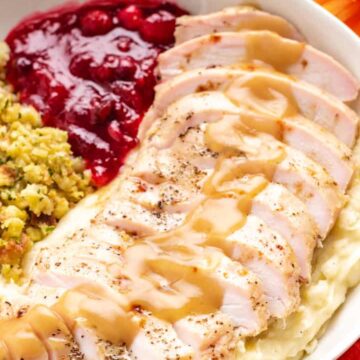 Ingredients
8

cups

water

,

warm

1 ½

cups

kosher salt

¼

cup

granulated sugar

3

bay leaves

1

tablespoon(s)

mustard seed

1

tablespoon(s)

black peppercorn

1

tsp.

rubbed sage

1

tsp.

celery seed

1

tsp.

poultry seasoning

3

pounds

turkey breast
Instructions
For the Brine:
In a large, plastic sealable container, whisk together the warm water and spices.

8 cups water

1 ½ cups kosher salt

¼ cup granulated sugar

3 bay leaves

1 tablespoon(s) mustard seed

1 tablespoon(s) black peppercorn

1 tsp. rubbed sage

1 tsp. celery seed

1 tsp. poultry seasoning

Place the turkey breast into the water, cover, and refrigerate for 1 to 2 hours.
To Bake:
Preheat the oven to 325°F, and lightly grease a roasting pan or large baking dish.

Remove the turkey from the brine, and use paper towels to pat dry and discard the brine. Place the turkey in the pan, skin side up, and bake for 1 ½ to 2 hours or until an instant read thermometer registers 170°F when inserted into the thickest part of the turkey. (We like to baste the turkey with melted butter every 20 minutes while it bakes.)

Remove the turkey from the oven, and allow it to rest for at least 10 minutes before slicing and serving.

Store any leftovers in the refrigerator for up to 3 days.
Notes
*The calories listed are an approximation based on the ingredients in the recipe card and a serving size of 8 ounces of turkey breast. Actual calories will vary.
*For more information and tips, please refer to the post.
Nutrition
Serving:
5
Ounces
Calories:
243
kcal
Protein:
57
g
Fat:
1
g
Cholesterol:
142
mg
Sodium:
104
mg
Iron:
0.4
mg