Our grilled prosciutto wrapped asparagus with balsamic glaze features asparagus spears, wrapped in prosciutto, grilled, and topped with a balsamic glaze!
Kim and I were looking a various asparagus recipes and noticed a lot of people were asking for a prosciutto wrapped version. In addition, it seems like they wanted it grilled and topped with some sort of balsamic topping.
Well, if you're one of those people, then look no further. Because, we've got you covered with our grilled prosciutto wrapped asparagus with a sweet balsamic glaze!
However, if you're not one of those people, then I encourage you to try this dish. It's sweet, savory, and delicious. Now, enough chatting, let's get started! Need a quick main dish? Try our blackened Mahi Mahi recipe!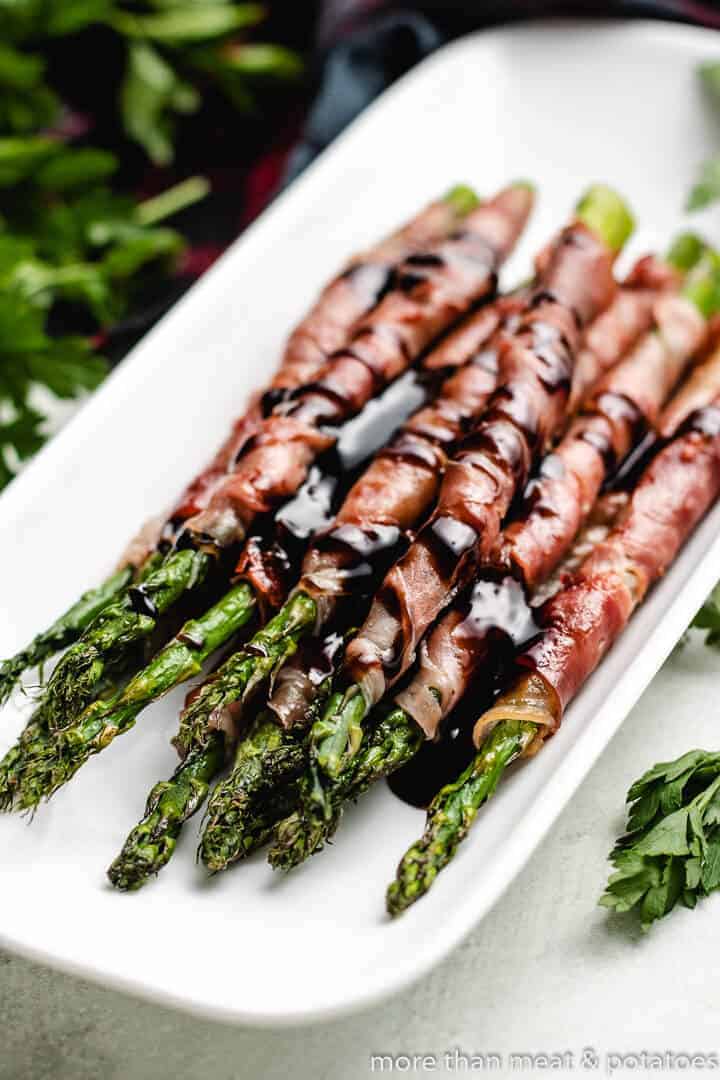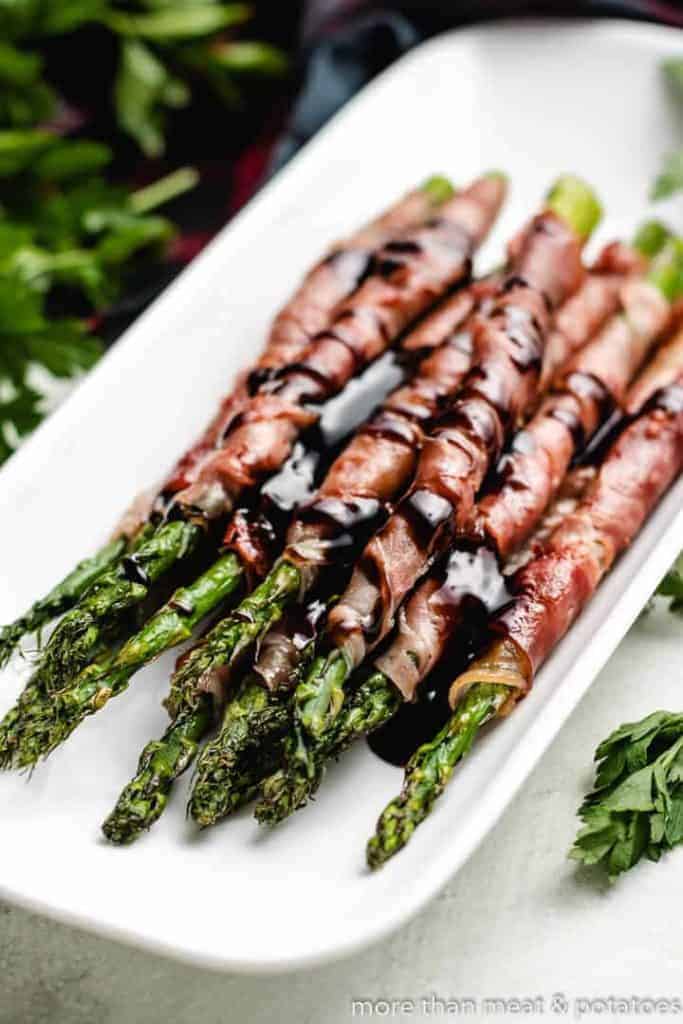 How to grill prosciutto wrapped asparagus?
So, this dish can be made on the stove or on your grill. Should you make it on a gas grill, don't leave it unattended. It cooks quickly. To begin, let's start with the glaze. You can skip this step if you're using a store-bought one.
Grab a small saucepan and place it over medium heat. Add the balsamic vinegar and maple syrup, stir them together.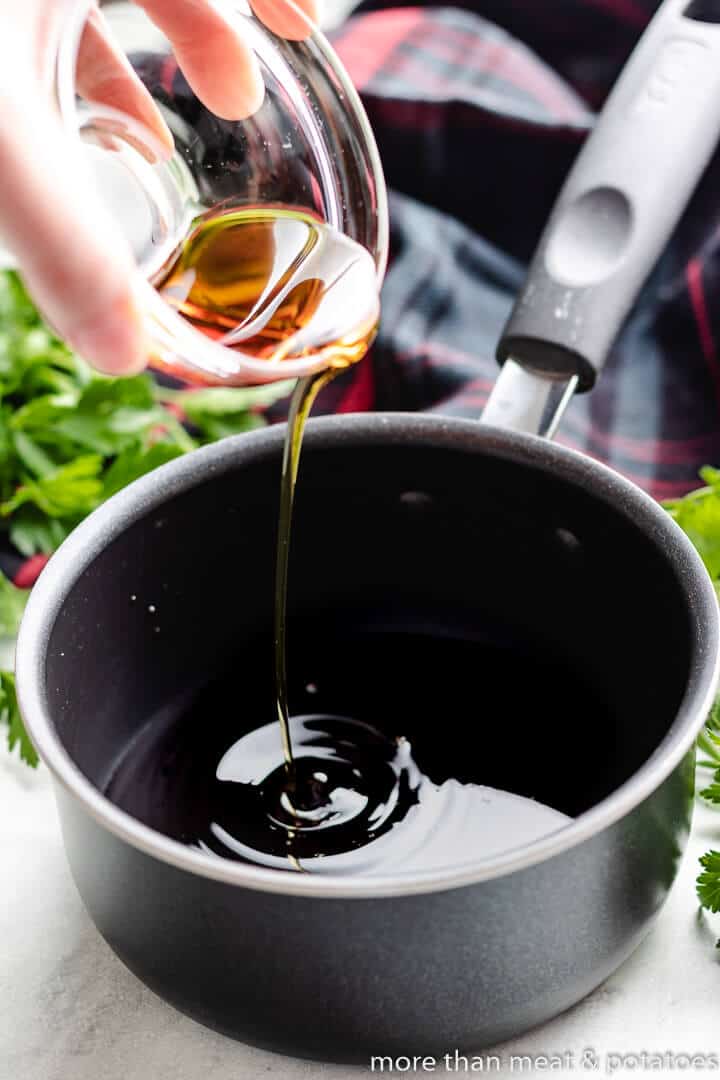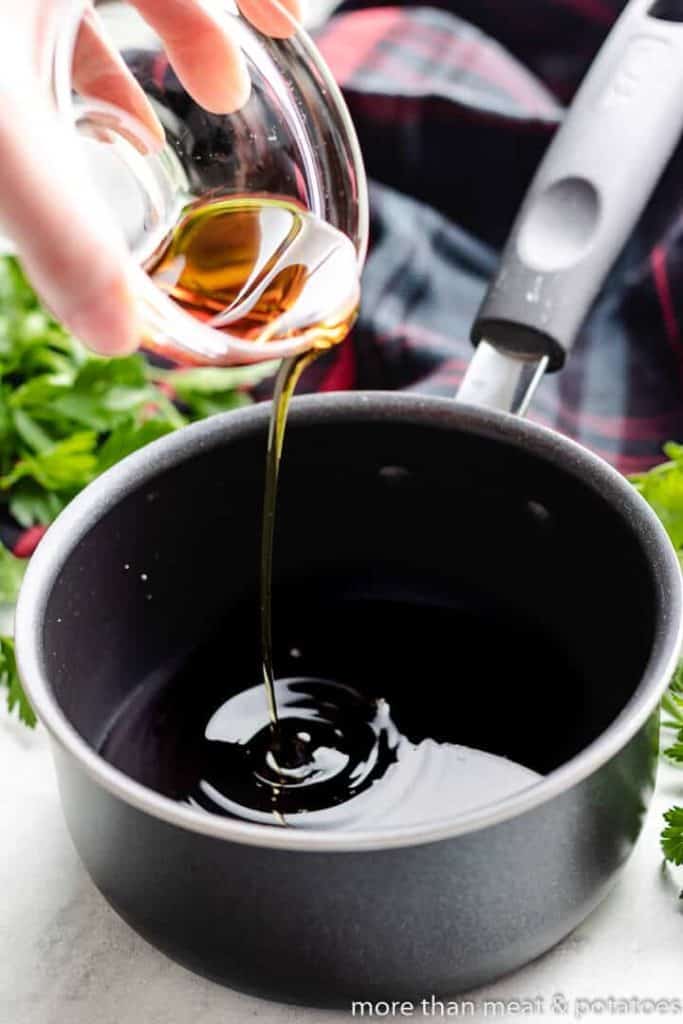 Allow the mixture to come to a simmer, then reduce the heat to low. Let the glaze cook until it reduces by half (10-12 minutes).
Turn off the heat and set it aside to cool.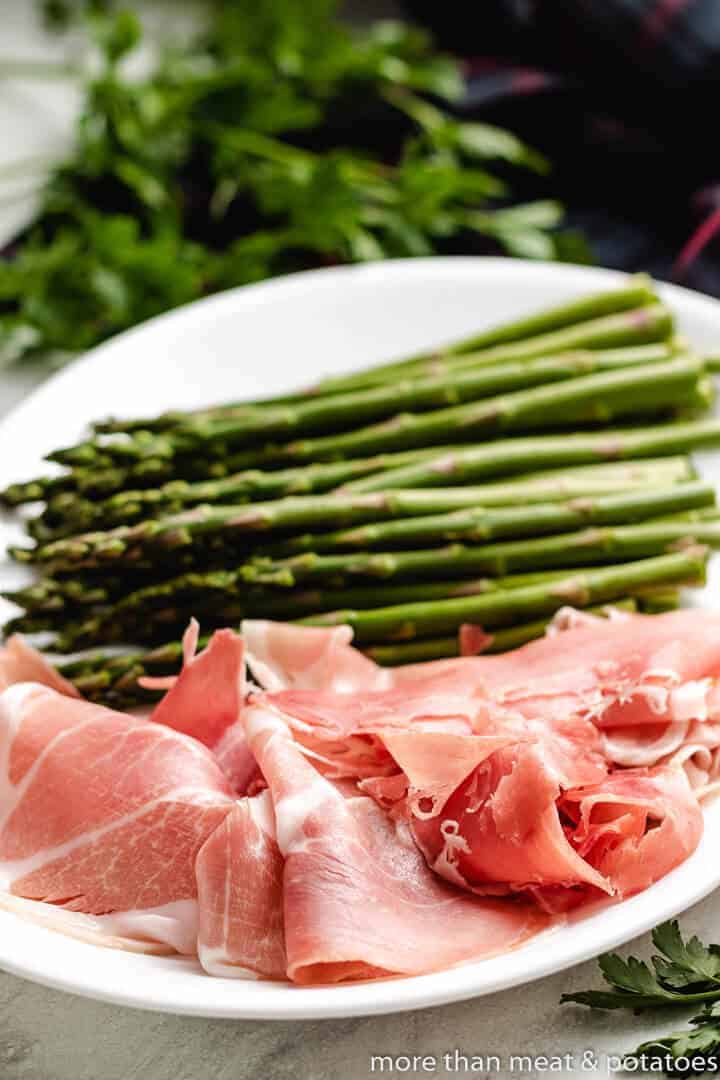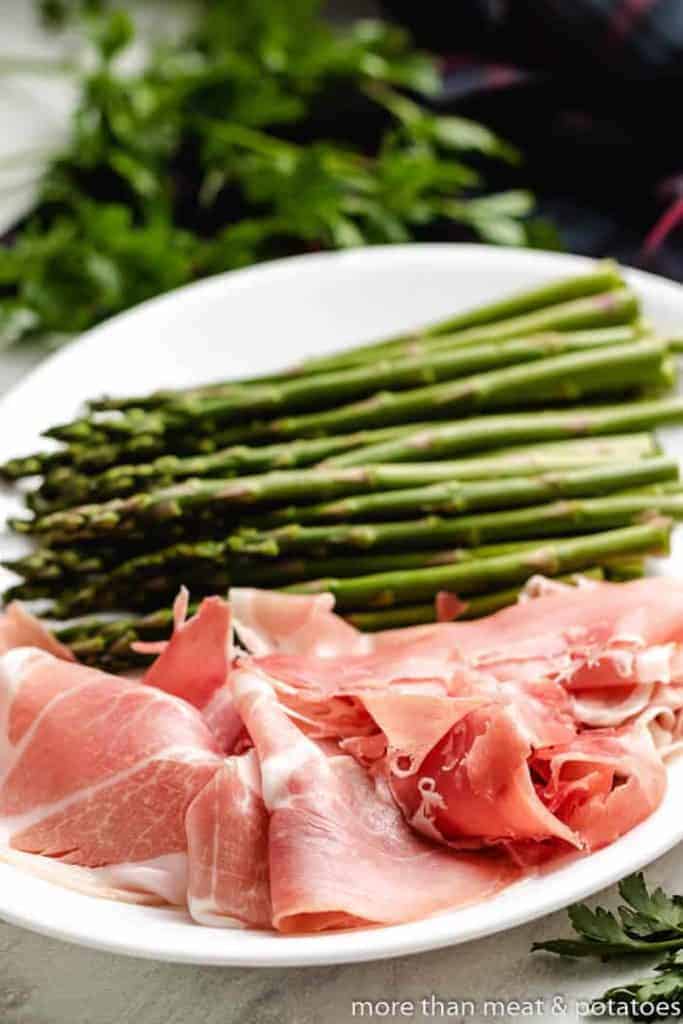 Next, heat your grill or griddle pan over medium heat. Wash, trim, and dry the asparagus.
Remove the prosciutto from the package and cut it into small strips.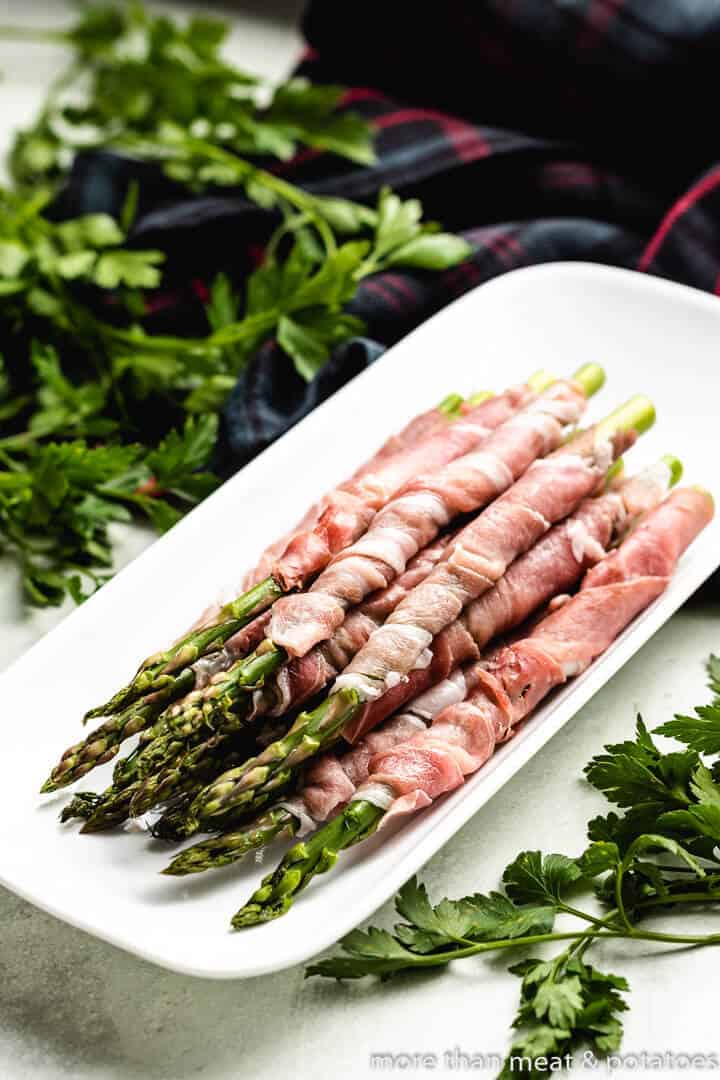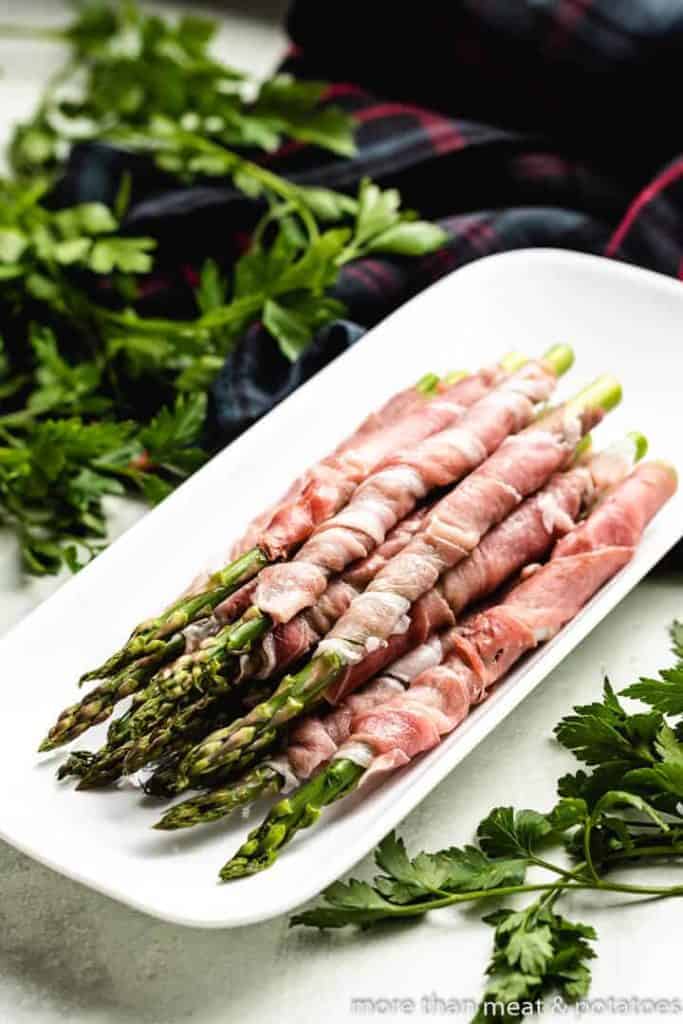 Now, start wrapping each asparagus spear (diagonally) starting from the bottom and working up.
Once they're done, brush your grill with the oil and place the spears on the hot grates (or hot pan).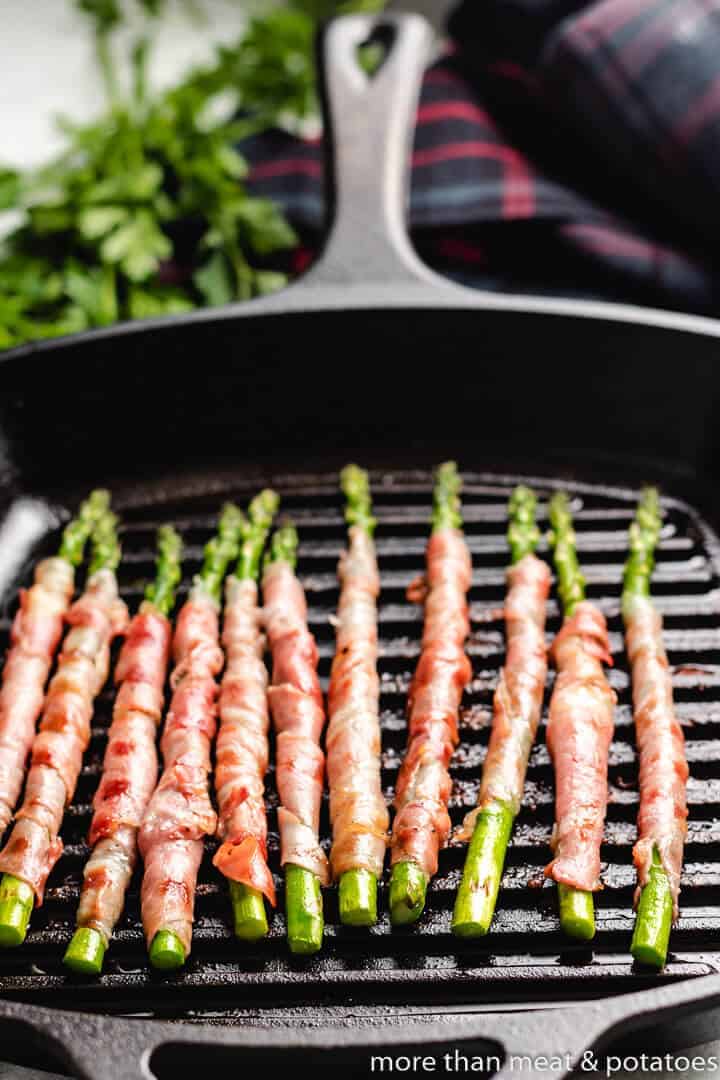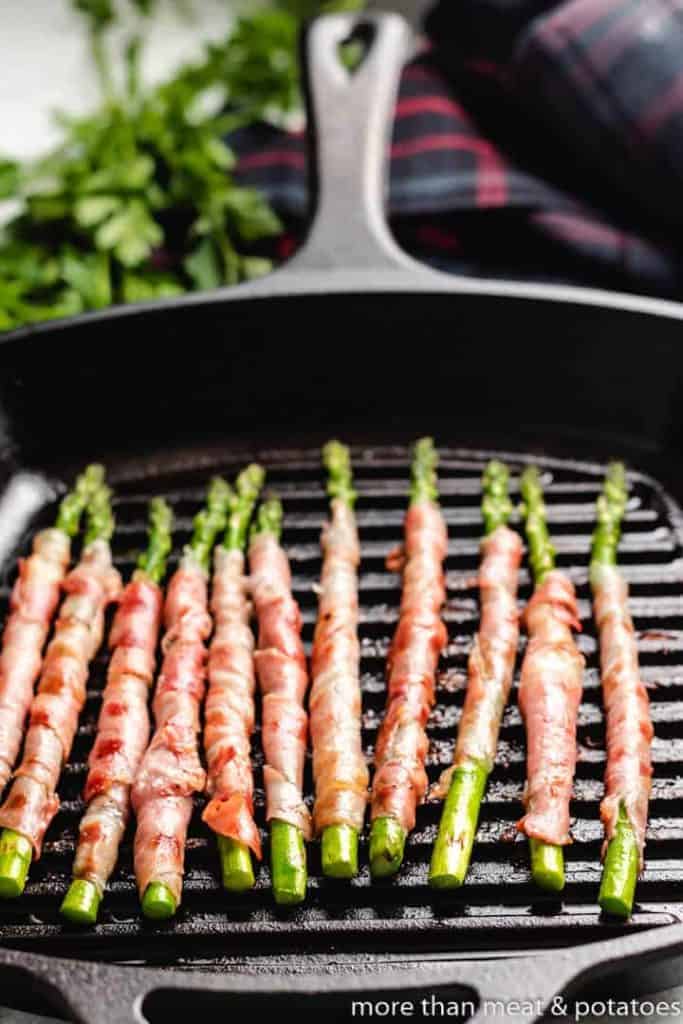 Then, let them cook on each side for about 4 minutes or until the meat crisps and the asparagus becomes tender. Last, remove the vegetable from the grill and drizzle it with the glaze.
That's it, your grilled prosciutto wrapped asparagus with balsamic glaze is done! Kim and I hope you enjoy it 🙂 Our mushroom toast pairs perfectly with this side dish.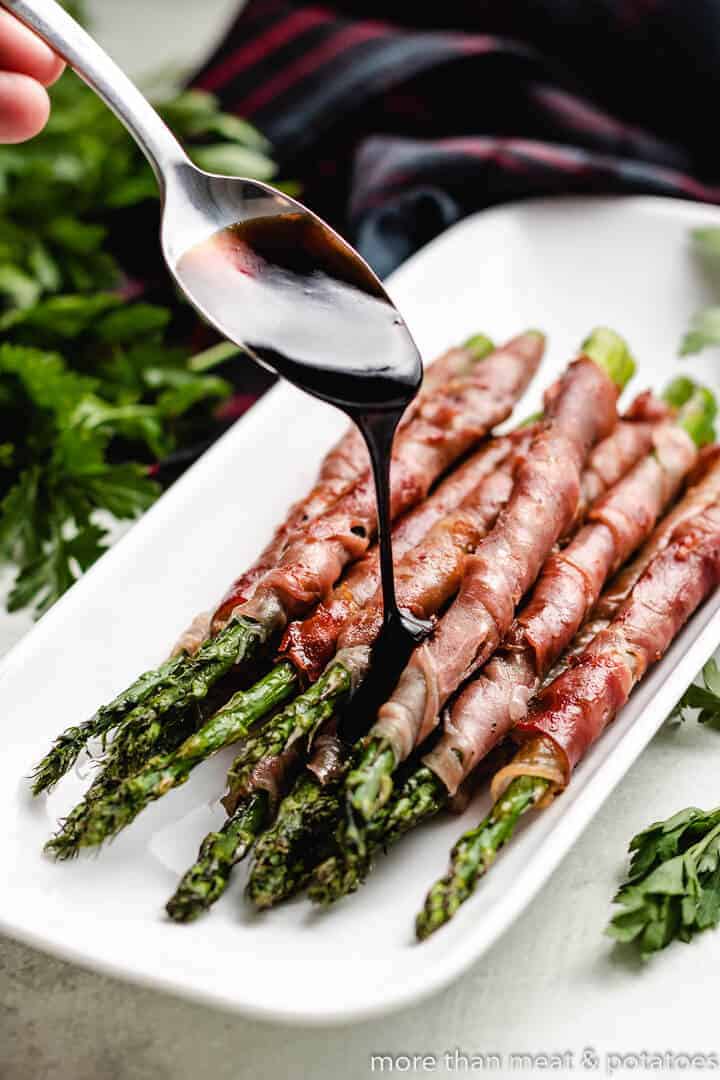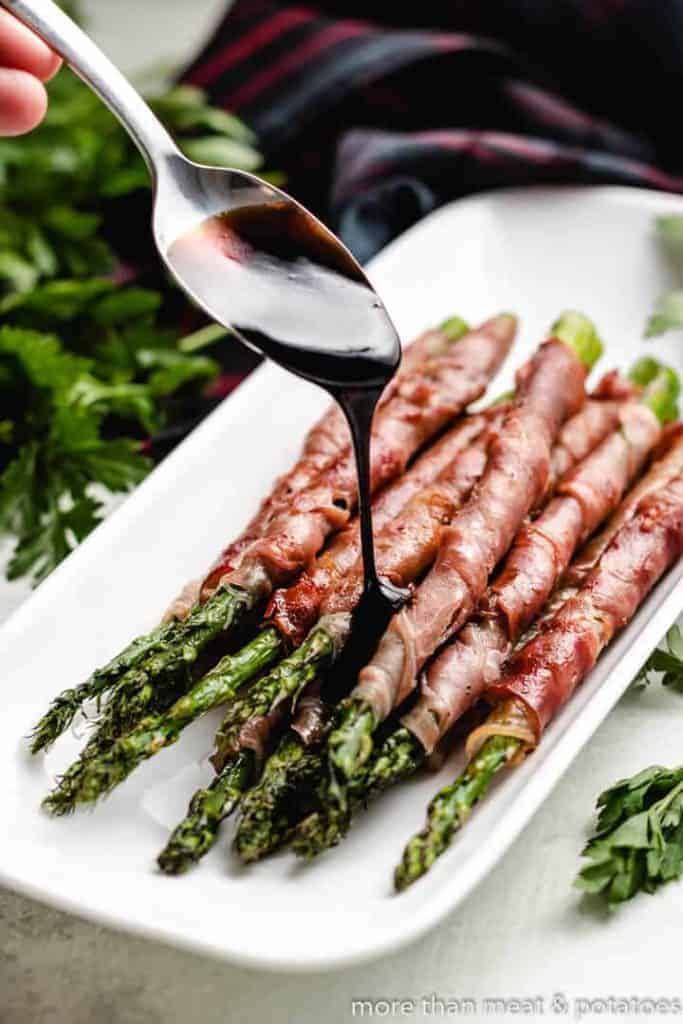 Recipe Tips:
If you want to use bacon instead of prosciutto, I wouldn't recommend the grilling method. It's better to roast the dish in the oven to ensure the bacon is fully cooked. Also, it will need to cook for longer to meet the safe consumption standard of doneness.
Making a balsamic glaze isn't difficult. Just remember 2 things. Keep an eye on the mixture; otherwise, it will scorch. Additionally, the vinegar reduction creates an unpleasant odor. I don't recommend deeply inhaling the aroma, it may burn your nostrils if you're not used to it.
Looking for a great main dish to serve with this one? Try pairing it with our oven baked mahi-mahi recipe.
Recipe Card with Ingredient Amounts and Instructions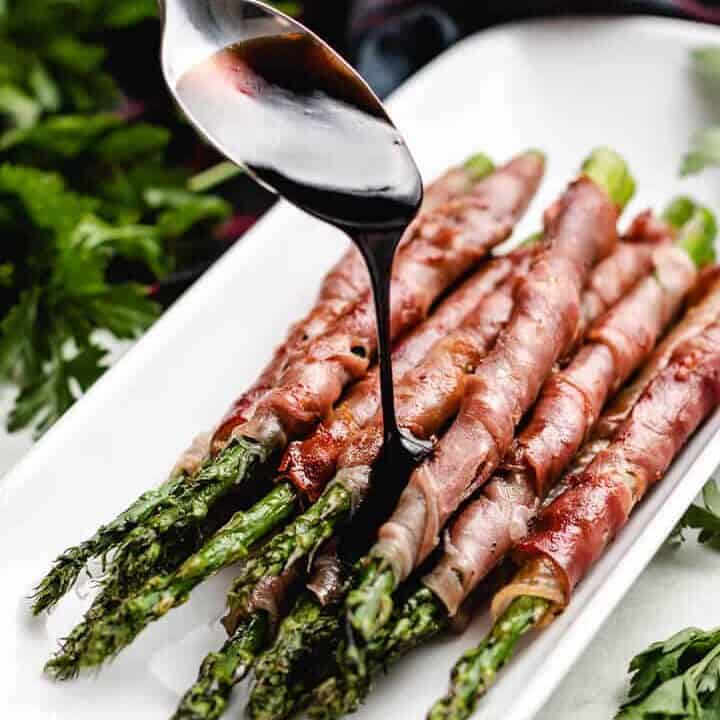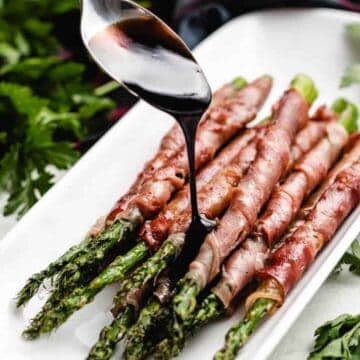 Ingredients
½

cup

balsamic vinegar

3

Tbsp.

maple syrup

½

lb.

asparagus

,

washed and ends trimmed

4

ounce(s)

prosciutto

1 - 2

Tbsp.

avocado oil

,

for brushing the grill
Instructions
Place the balsamic vinegar and maple syrup in a small saucepan and heat over low-medium heat. Stir occasionally, and heat until the mixture begins to bubble then reduce the heat to low. This takes about 8 to 10 minutes total.

½ cup balsamic vinegar

3 Tbsp. maple syrup

Continue to cook until the vinegar reduces by about half, then remove from heat. This is now a reduction and should be a thick liquid and easy to pour.

Heat a grill or griddle over low-medium heat and start wrapping the asparagus.

Cut the prosciutto in half lengthwise. Take 1 piece of prosciutto and begin at one end up the asparagus. Wrap the prosciutto around the asparagus at a diagonal (similar to the stripes on a candy cane). Repeat with the remaining prosciutto and asparagus.

4 ounce(s) prosciutto

½ lb. asparagus

Lightly brush the hot grill or griddle with the oil, then add the asparagus. Cook on each side for 3 to 4 minutes, turning frequently, or until the prosciutto is crispy.

Remove from the grill and enjoy immediately.
Notes
*The calories listed are an approximation based on the ingredients in the recipe card. Actual calories will vary.
*Leftovers can be stored in a sealed container, in your fridge, for up to 3-days.
Nutrition
Serving:
2
ounces
Calories:
291
kcal
Carbohydrates:
18
g
Protein:
5
g
Fat:
22
g
Saturated Fat:
5
g
Polyunsaturated Fat:
3
g
Monounsaturated Fat:
12
g
Trans Fat:
0.04
g
Cholesterol:
19
mg
Sodium:
197
mg
Potassium:
240
mg
Fiber:
1
g
Sugar:
15
g
Vitamin A:
439
IU
Vitamin C:
3
mg
Calcium:
40
mg
Iron:
2
mg